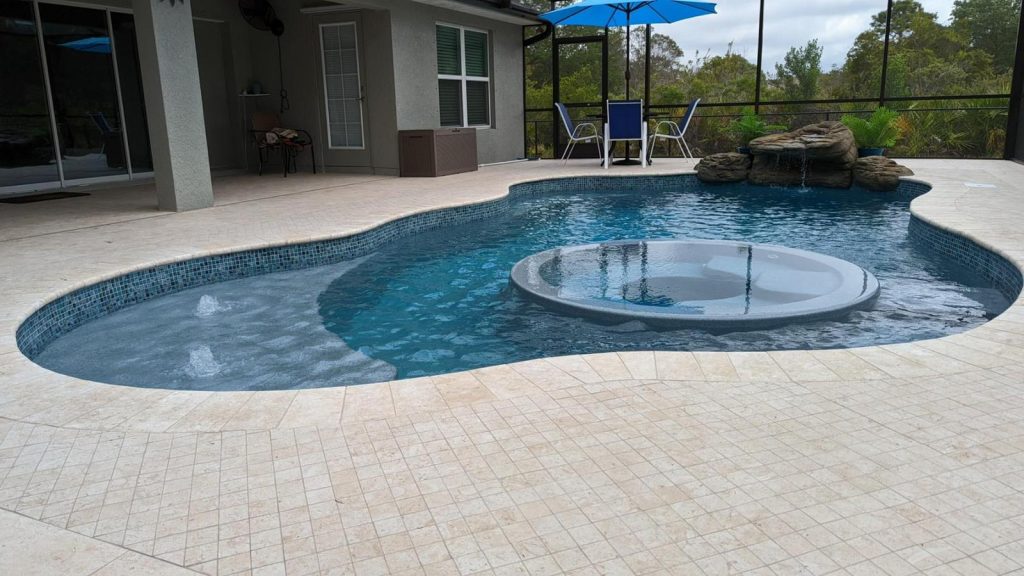 The Pool Specs
Width: 14′ 10.25″
Length: 27′ 3″
Depth: 5′ 9.25″
Surface Area: 324 SQFT
Volume: 10,000 Gallons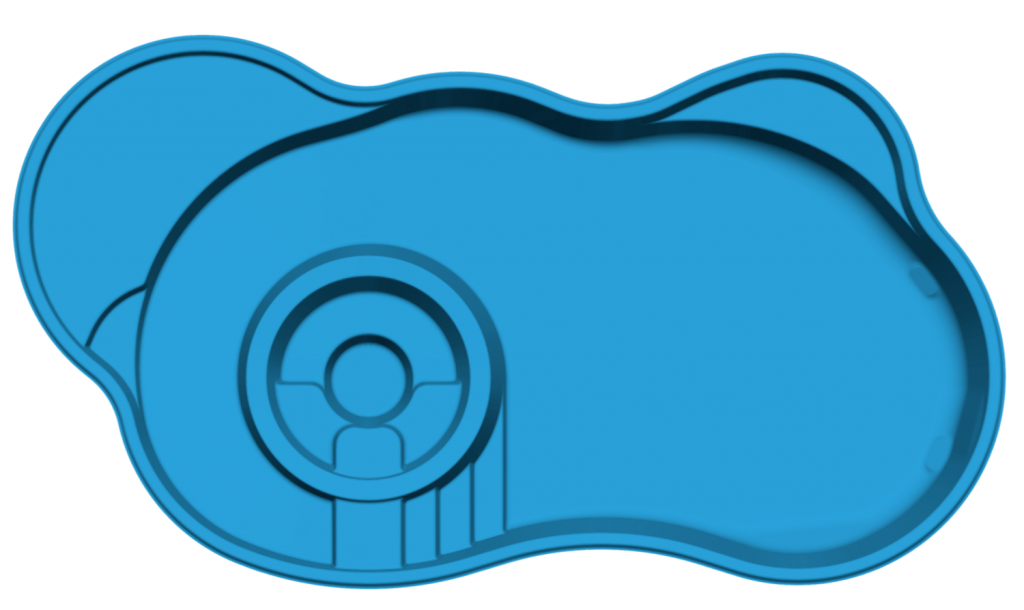 The Barcelona – A Free Form Fiberglass Pool with Attached Spa & Tanning Ledge
Many of our clients are looking for ways to maximize their backyard experiences. What better way to enjoy the most of your backyard than to purchase a fiberglass pool & spa combo from San Juan Pools? The Barcelona offers our clients a complete outdoor living experience that you're sure to enjoy with all the kids and grandkids.
Designed with a Free Form Layout, the Barcelona provides an overall swim space of 324 SQFT. Built on a 73 linear foot design and overall volume of 10,000 Gallons, we classify this pool / spa combo as a Medium Sized body of water.
We designed this fiberglass free form model to fit into most backyards by designing it with an overall length of only 27′ 3″ and width of 14′ 10.25″. That allows most of our clients who live in residential areas to take advantage of the Barcelona. If you live within a 40′ or 50′ lot line, you should easily be able to fit this gorgeous San Juan product in your backyard!
A Petite Spa That is Centrally Located
What better way to get the most out of your new swimming basin than to include a radius fiberglass spa right in the middle of the Barcelona? Designed with an approximate perimeter of 24′, our fiberglass spa provides ample seating for 3-4 swimmers to enjoy at a time.
Additionally, with the technological advances of today, it's possible for you to heat our fiberglass spa with either a natural gas or propane heater. This allows our clients to turn up the heat to extend their swimming season from the standard months of May – September to also include early Spring or late Fall. By installing an automation system with The Barcelona, you can login to the corresponding smart phone app and heat your radius spa while out to dinner with your spouse – so it's warm and bubbly when you return home that evening!
Lastly, we recommend lighting your pool & radius spa with some nicheless LED lights for a beautiful lighting effect. Illuminate your outdoor pool and spa with color changing lights to brilliant lights shows or soothing colors to maximize your enjoyment of The Barcelona.
The Features of The Barcelona
In conclusion, the Barcelona provides our clients with a stunning overall user experience! Providing the best of all worlds, our clients receive a free form layout coupled with a pool & spa in the same design! Built on an overall length of only 27′ 3″ – we designed The Barcelona to fit easily into most backyards!
Not only is the Barcelona built on a layout of fun and relaxation, but it is perfect for swimmers with intermediate swimming abilities. Built on an overall depth of 5′ 9.25″, it is fairly shallow while giving you some room to stretch your legs for some vigorous swimming fun and games.
Lastly, the Barcelona includes a wide tanning ledge that gives the user a safe space to relax and soak in the afternoon rays.
The Dig Specs