Our Hand Laid Fiberglass – The Superior Quality of San Juan Pools
At San Juan Pools, we believe in one simple truth. Building the highest quality fiberglass swimming pools and spas – every time! This means more than just a slogan. It's a way of life for us and it all comes down to material selection and quality craftsmanship.
Unlike other fiberglass manufacturers, San Juan Pools believes in using 100% hand laid fiberglass sheets. Using a sturdy combination of Hand Laid Fiberglass Sheets, Woven Roving and Vinyl Esther Resin – we produce the strongest fiberglass pool shell on the market!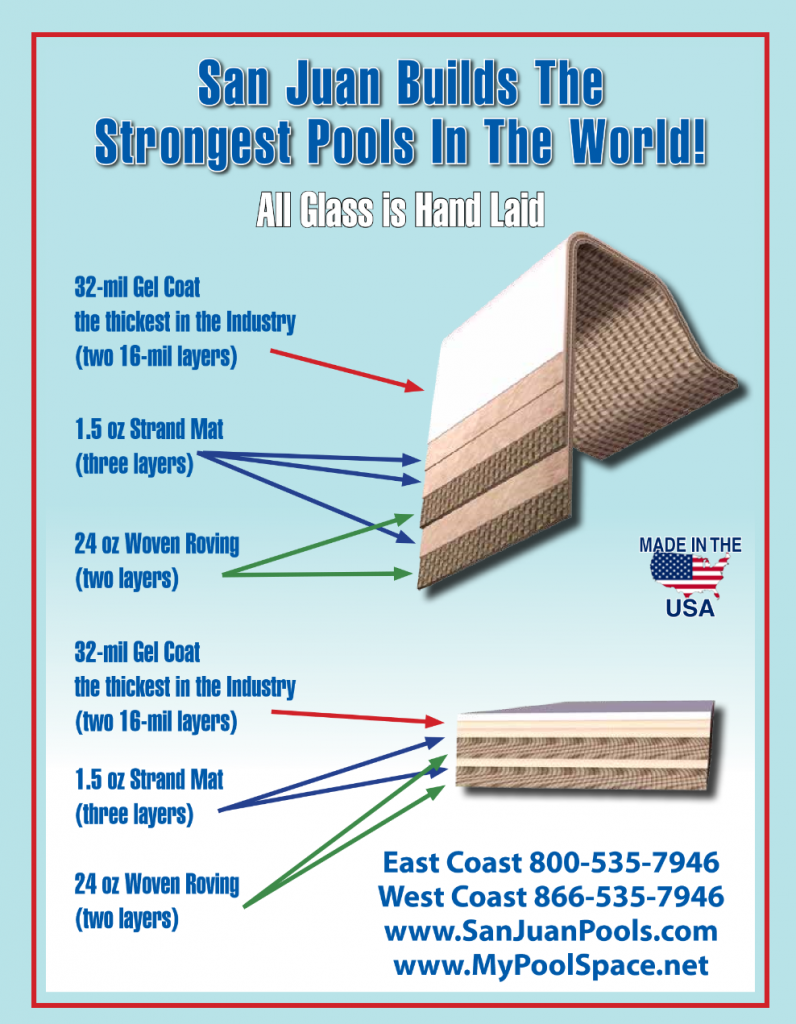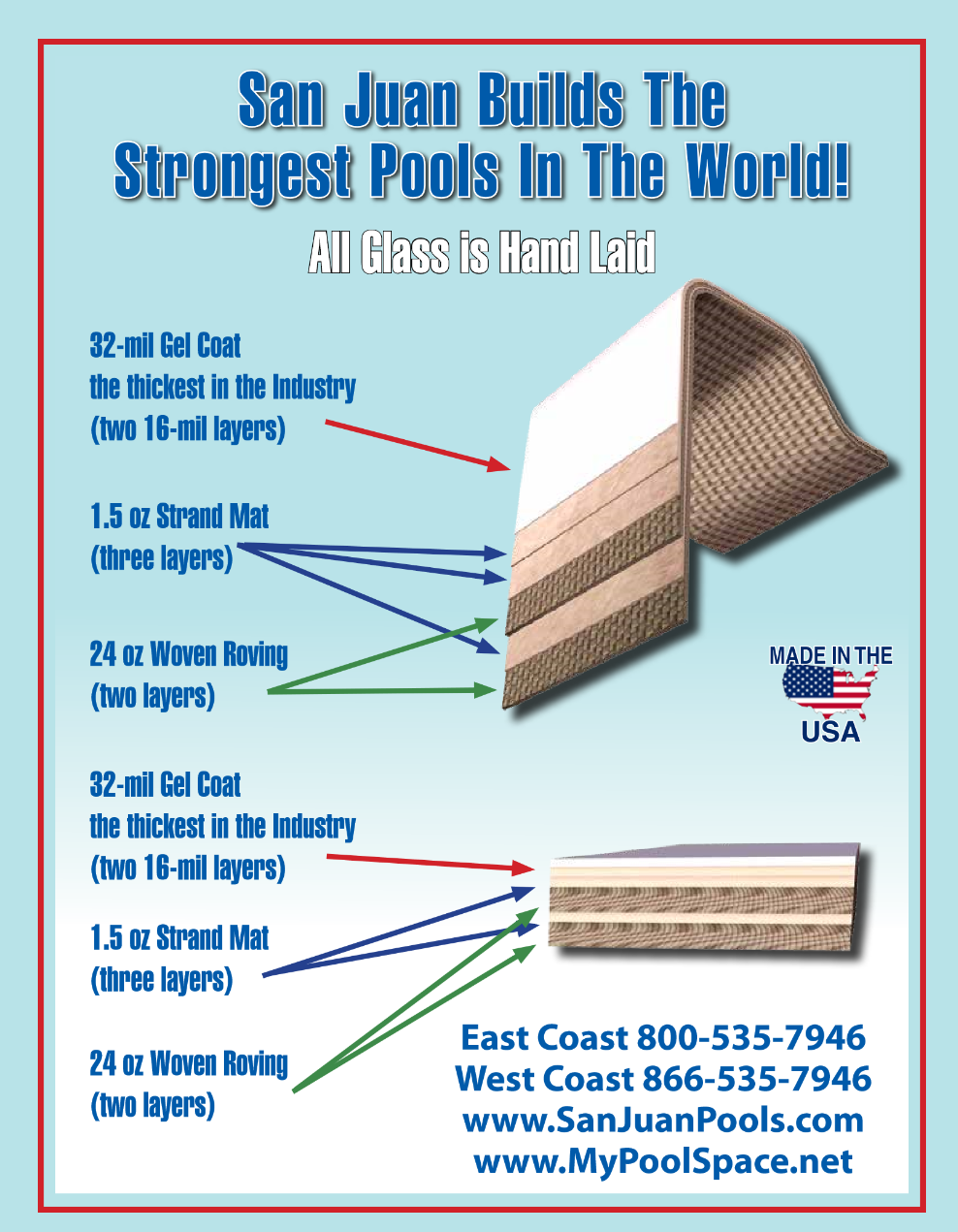 Hand Laid Fiberglass versus Chopped (Sprayed) Fiberglass
There are multiple ways to produce a "fiberglass" swimming pool. The traditional method (our method) is to lay multiple layers of fiberglass sheets, woven roving and vinyl esther resin in subsequent layers. The initial layer is placed upon a mold and then additional layers are added for flexural strength and structural durability.
Another method is to spray broken up (chopped) fiberglass shards onto a mold and then interweave each layer with woven roving & vinyl esther resin.
Compared to chopped" fiberglass – we follow the traditional method! Our pools are manufactured with a minimum of 5 individual layers of hand laid fiberglass. We then reinforce it with compounding layers of Woven Roving & Vinyl Esther Resin. Our production process replicates the same process for boat hull manufacturing. Hence, our fiberglass shells are designed to last much longer than our competitors!
The Difference: Our Pools are Much Stronger
Ironically, despite the evidence that hand laid fiberglass sheets produce a much stronger finished product – our competitors still adopt the "chopped" fiberglass production model. The downside of this process is there is far less control over the finished product because their "hands" are not on your pool during production.
Downside of "Chopped" Fiberglass
No consistency in level of fiberglass thickness (depends on how long chop gun sprays each section)
Chopped fiberglass is "rolled" onto mold, using resin as a binder. Resin can become too concentrated in certain areas. This creates uneven layers of fiberglass – reducing the strength of the pool shell
Chopped fiberglass pools utilize "safety ledges" around the interior of the pool shell (see bottom of above listed diagram). This is because chopped pools create a weaker product and hence, you must bend the mold to reinforce the structure. This can create a safety concern for young swimmers and is a perfect dirt collection point.
Benefit of Hand Laid Fiberglass
Our material is made using hand laid sheets. These layers use consistent thickness throughout the mold and we guarantee at least 5 layers of fiberglass for each pool shell.
Due to our sheet method, we apply even layers of resin & woven roving to ensure that the pool has the consistent thickness from front to back. This creates a stronger design with no need for safety ledges!
We guarantee that our product will NEVER include: Coring & Fillers, Chopped Fiberglass or Safety Ledges!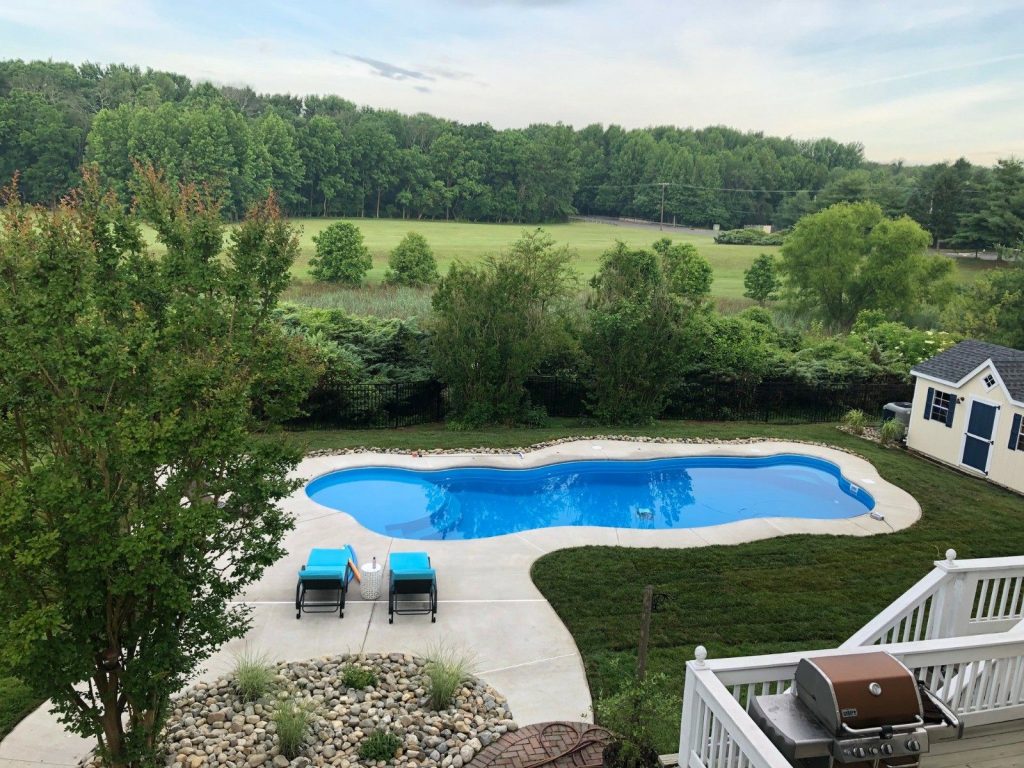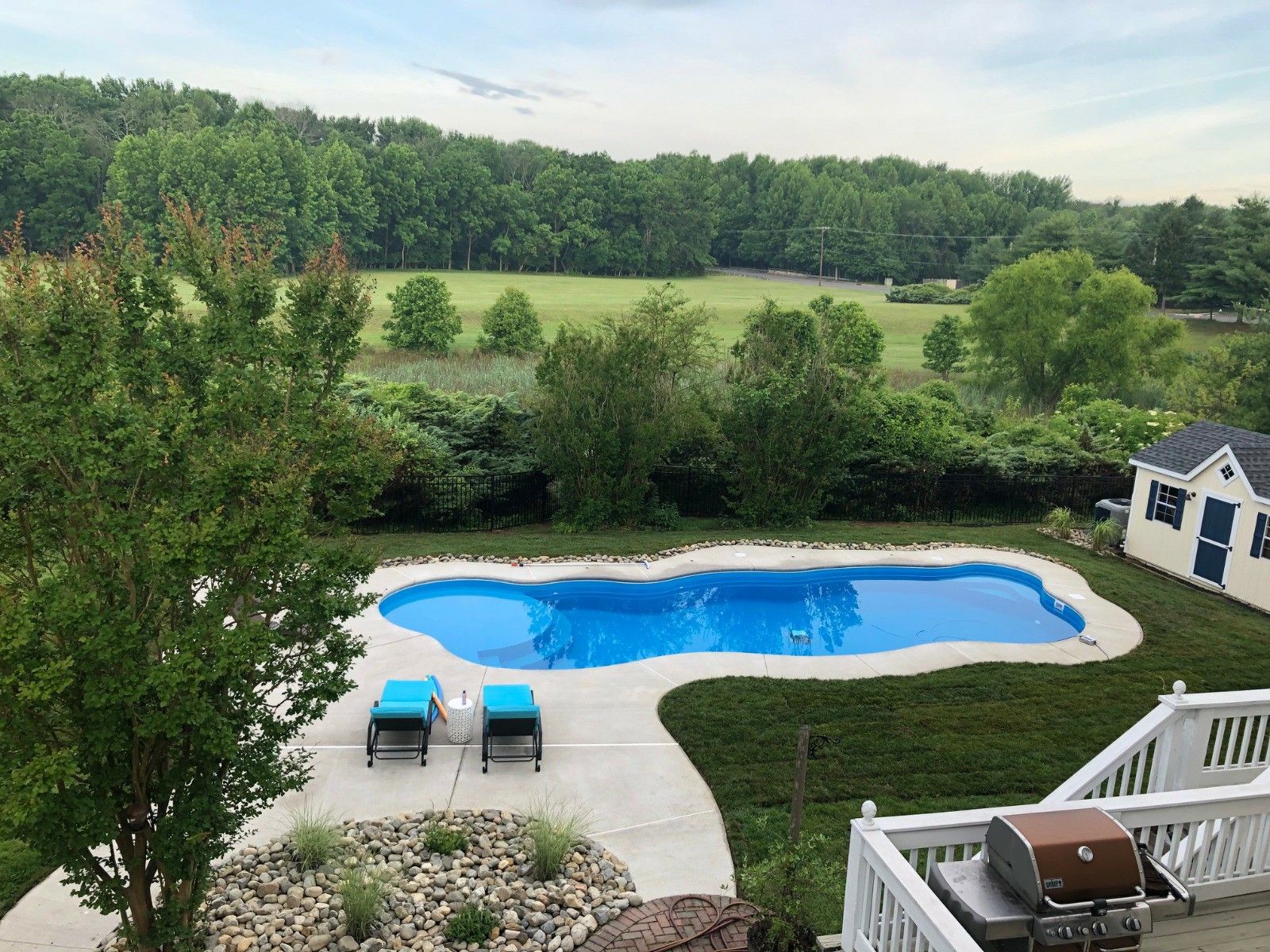 Make The Best Choice: This is a Long Term Decision
When selecting which fiberglass pool manufacturer you want for your new pool installation: choose San Juan Pools. There is not another manufacturer who follows the same traditional practice of fiberglass pool production as San Juan. We believe in old school methods that produce the best results.
We invest more material cost into our pool shells and we utilize higher amounts of labor. This leaves our clients with swimming pools that have literally lasted generations. Believe it or not, our first fiberglass swimming pool is still in the ground today and owned by the family who purchased it from us!
Conversely, selecting a manufacturer who uses the "chop" method may leave you with a much weaker product for the long term. Remember, this is a Long Term Investment! This decision can weigh heavily on your cost of pool maintenance while you own your home. Why not choose San Juan Pools when we use the strongest production method on the market?