Our Founder
San Juan Pools was originally founded in Seattle, Washington in 1958.
George Sullivan, the father of our current owners - Kirk Sullivan & Todd Sullivan, grew the company from a small Washington based company to a well governed nationwide organization with numerous manufacturing plants throughout the United States.

Together with each plant's network of locally owned independent authorized San Juan dealers, they design and craft the most elegant fiberglass pools in America.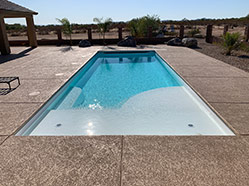 A business that has something that helps others to become more proficient in their planning, realize their dreams, enrich their self image, and make life more enjoyable will undoubtedly endure.
Helping Our Dealers & Homeowners
Our company is focused on aiding the growth of our dealers and boosting the backyard experience for our homeowners. We accomplish our goals through the use of good old-fashioned hard work and the highest quality materials available.
We have dedicated our professional lives to the design and construction of the highest quality swimming pools in the industry to date. San Juan craftsmen assemble each fiberglass pool with meticulous attention to every detail using the best material and the latest technological advancements in fiberglass.
Advances in Technology
Our fiberglass swimming pools are structurally sound because they are based on the same techniques used to construct boat hulls. We were the first company to apply the then-new technology of fiberglass to a full body swimming pool using techniques adapted from boat hull construction. That pool is still in excellent condition to this day, and people still swim in it every summer.
Setting The Standards in The Industry
We firmly believe that our sincere commitment to excellence defies the competition, and we shall continue to do so in the future.
In the past Sixty + years, San Juan has attained a position of prominence in the swimming pool industry.
FIRST to probe the gainful attributes of new technologies,
FIRST to introduce advanced installation procedures,
FIRST in continued research and development in fiberglass,
FIRST to explore the advantage of in-house training.
Contact Us To Get Started...
We love helping homeowners to find the next best swimming pool for them and their family! San Juan Pools has the largest network of fiberglass pool dealers in the country and we are able to pair you with the best dealer to develop your dream backyard.
Please fill out our contact form so we can get you in touch with the pool professional to make those dreams come true!