The Seaside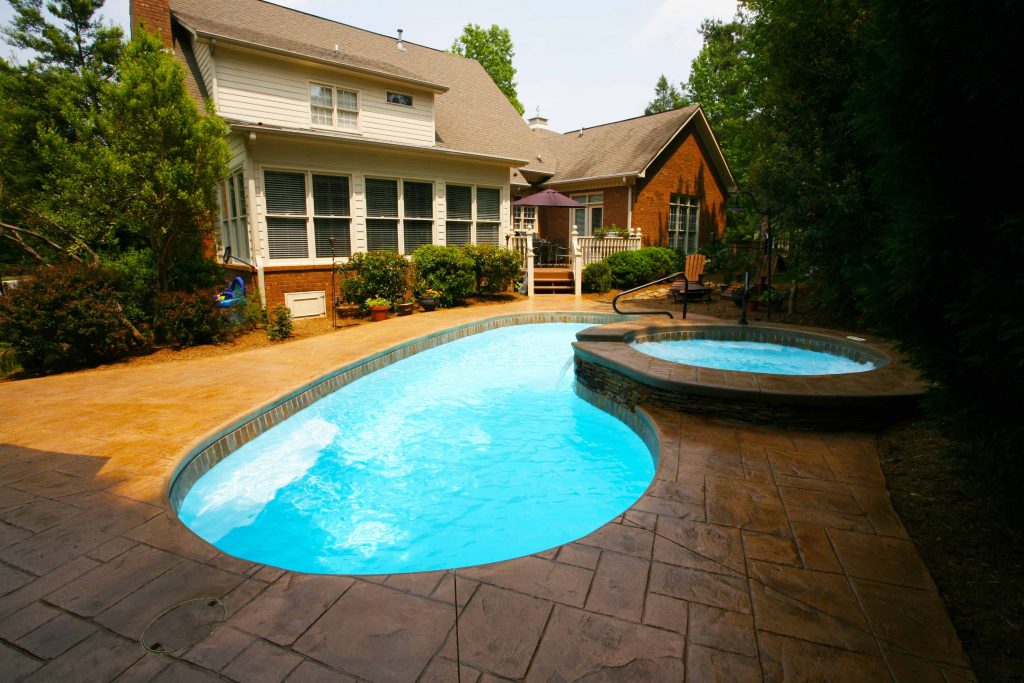 The Seaside – A Medium Sized, Kidney-Shaped Pool
If you're hosting a birthday party for the kiddos, what kinds of games and activities are they going to play? What is your game plan? Are you limited to an empty backyard, a stereo, and burgers on a grill? Get off that basic birthday agenda and jump into something fun. Give the kids something to cheer about with our fun and beautiful Seaside fiberglass swimming pool!
The Seaside is part of our Kidney Shaped pool family. It's very similar to our Catalina pool model, only it's slightly deeper and slightly longer than the Catalina.
The Seaside is a fun fiberglass pool designed to entertain multiple swimmers. It provides both comforts for casual conversation and space for adventurous swimmers. We love the Seaside because of its compact shape and ability to fit in most backyards.
Another benefit of this design is its smooth transition from a 3′ 4″ shallow end to a 6′ 1″ deep end in a relatively small space. It's perfect for families that have intermediate to advanced swimmers that enjoy diving for rings or floating on rafts.
The Features of The Seaside
Taking a deeper look at its features, the Seaside offers several unique aspects. For starters, the shallow end entry steps are wide and curved. These steps provide ample seating for multiple swimmers to relax, converse and enjoy some summer beverages. Secondly, the Seaside offers a modest deep end of 6′ 1″ with a convenient deep end seating bench. If you're tired from rigorous swimming, just relax in this deep end bench.
The Kidney Shape of the Seaside is a classic pool shape. It's both timeless and elegant. We're sure that you'll love the Seaside just as much as we do! If you have any questions over this pool model or would like some pricing information, please give us a call! We would love to get you in touch with one of our San Juan Pools approved dealers.
San Juan Fiberglass Pools
2302 Lasso Lane Lakeland, FL 33801
+1 877-424-3010
https://SanJuanPools.Com/
The Pool Specs
Width: 11′ 1″
Length: 27′
Depth: 6′ 1″
Surface Area: 242 SQFT
Volume: 8,000 Gallons
Seaside-Dig-Plans

Subscribe for more San Juan Fiberglass Pools videos: https://bit.ly/SJPSubscribe
Connect with San Juan Fiberglass Pools online:
Visit the San Juan Fiberglass Pools WEBSITE: https://bit.ly/SJPWebSite
Visit the San Juan Fiberglass Pools GMB: https://bit.ly/SJPGoogleMyBusiness
Like San Juan Fiberglass Pools on FACEBOOK: https://bit.ly/SJPFacebook
Follow San Juan Fiberglass Pools on TWITTER: https://bit.ly/SJPTwitter
Review Us On Google: https://bit.ly/SJPGoogleReviews
Google Maps: https://bit.ly/SJPMaps
Google Search: https://bit.ly/SJPGoogleSearch