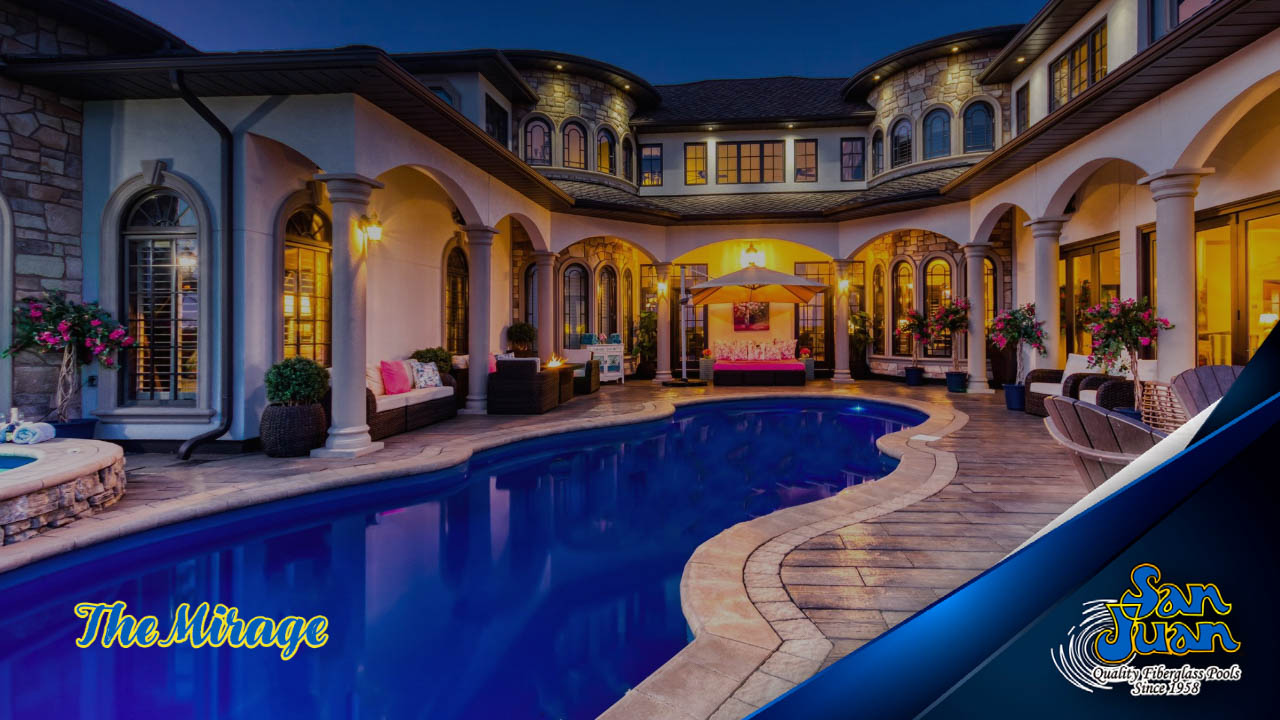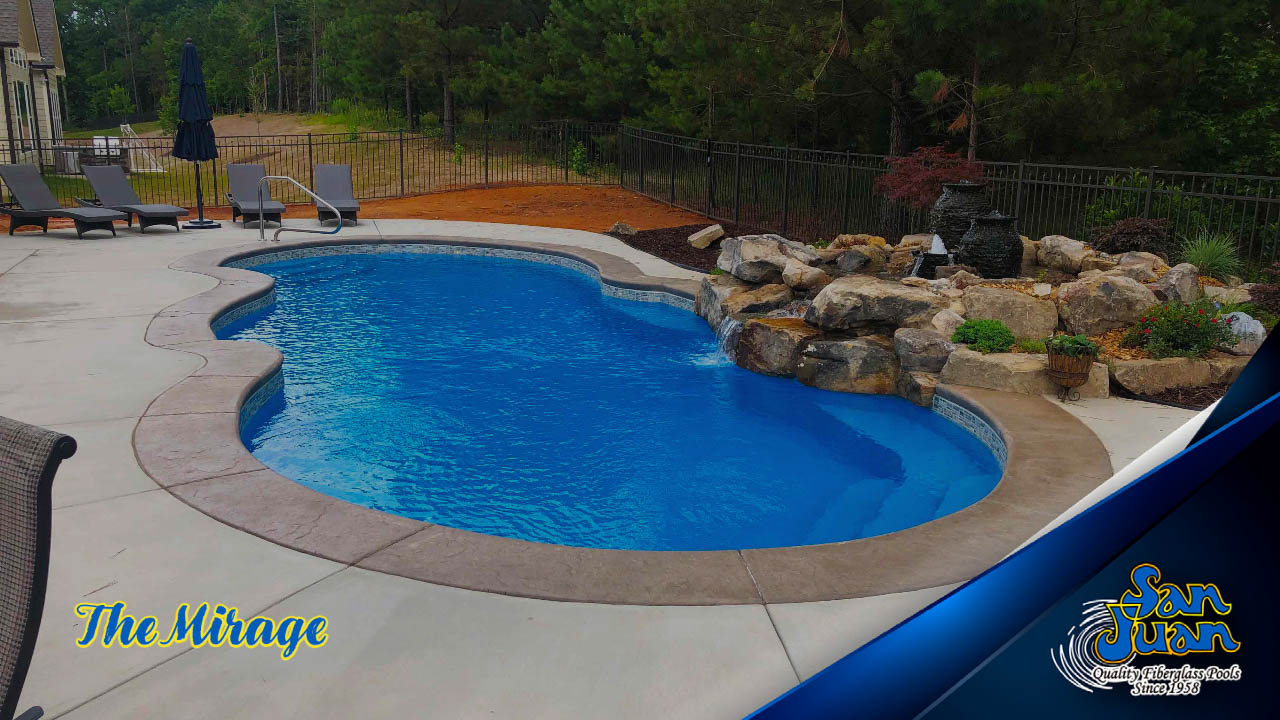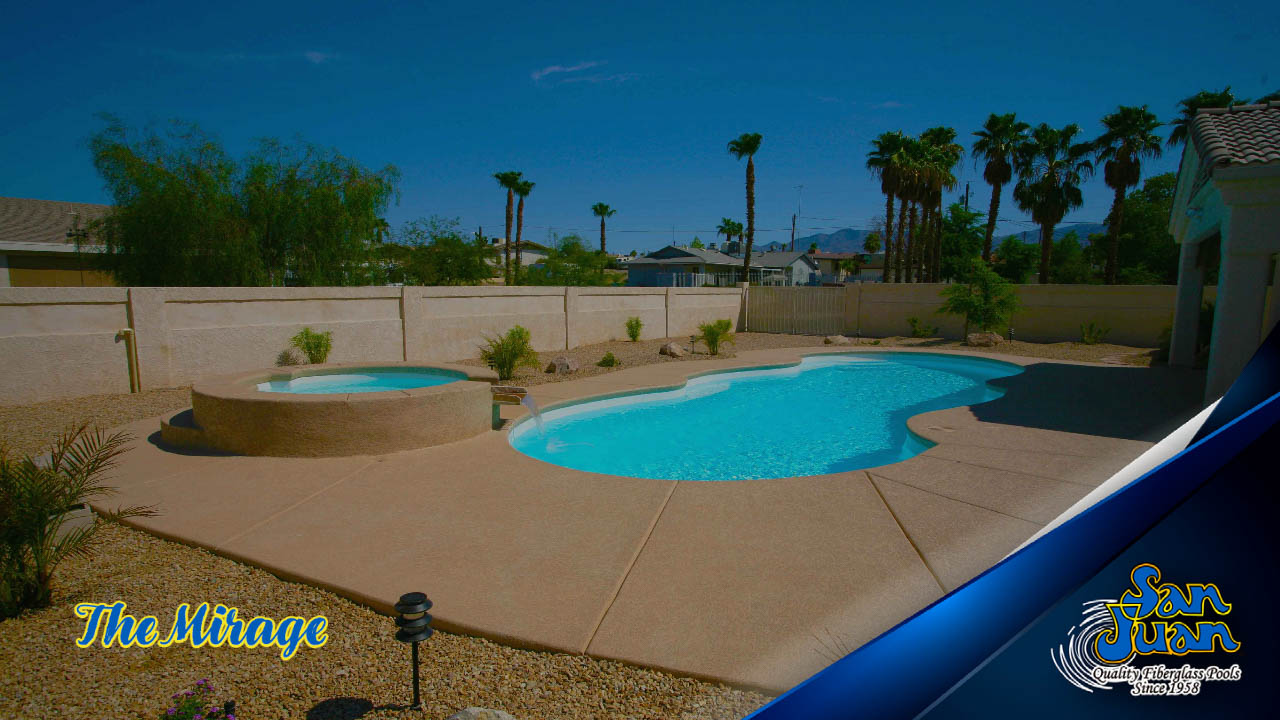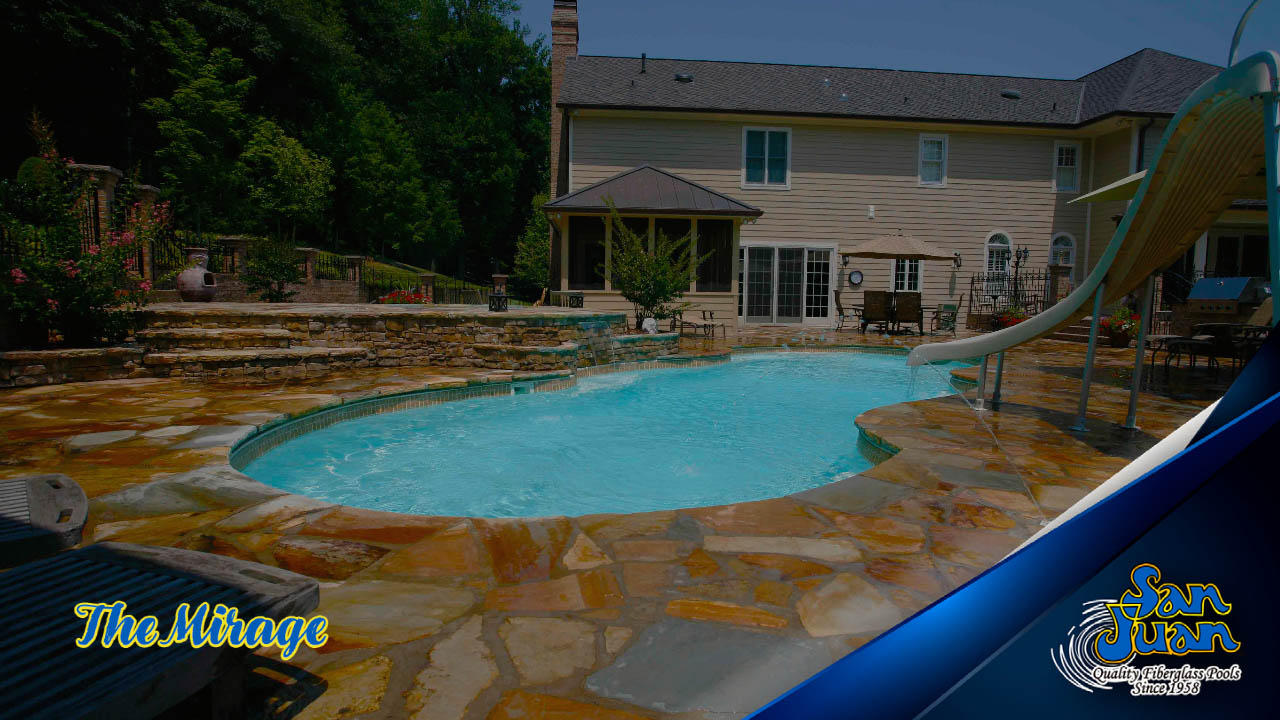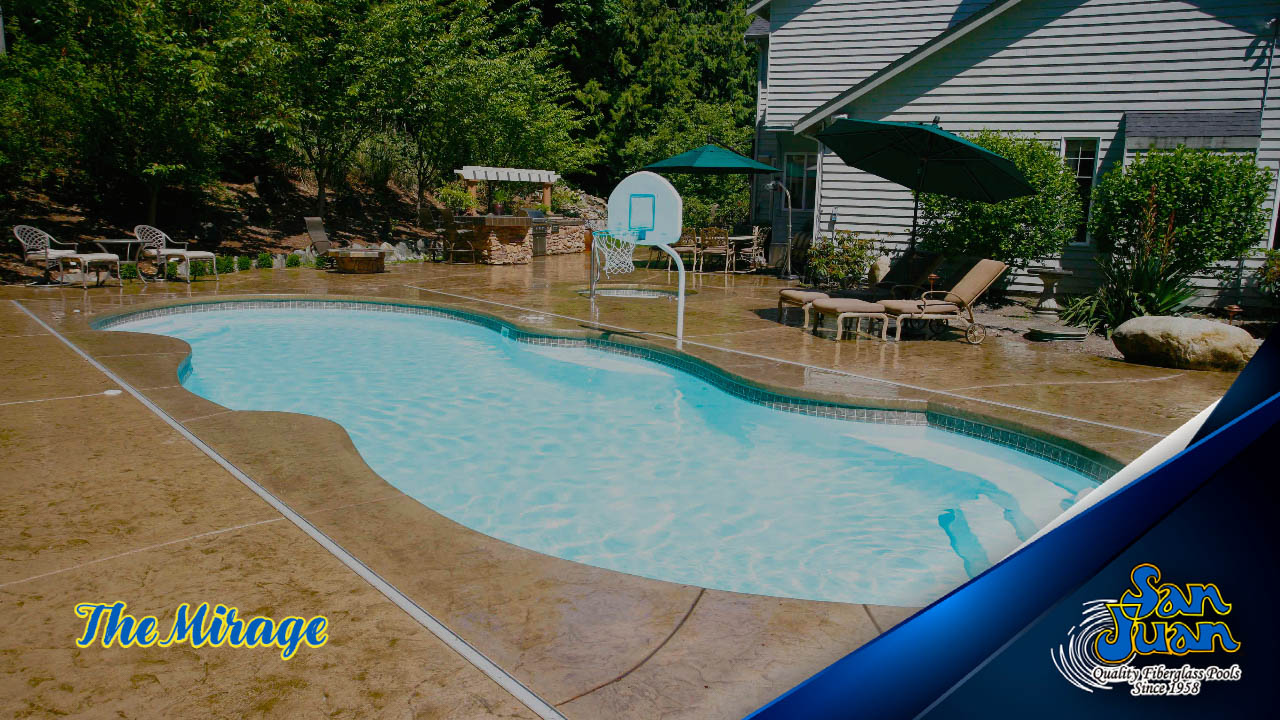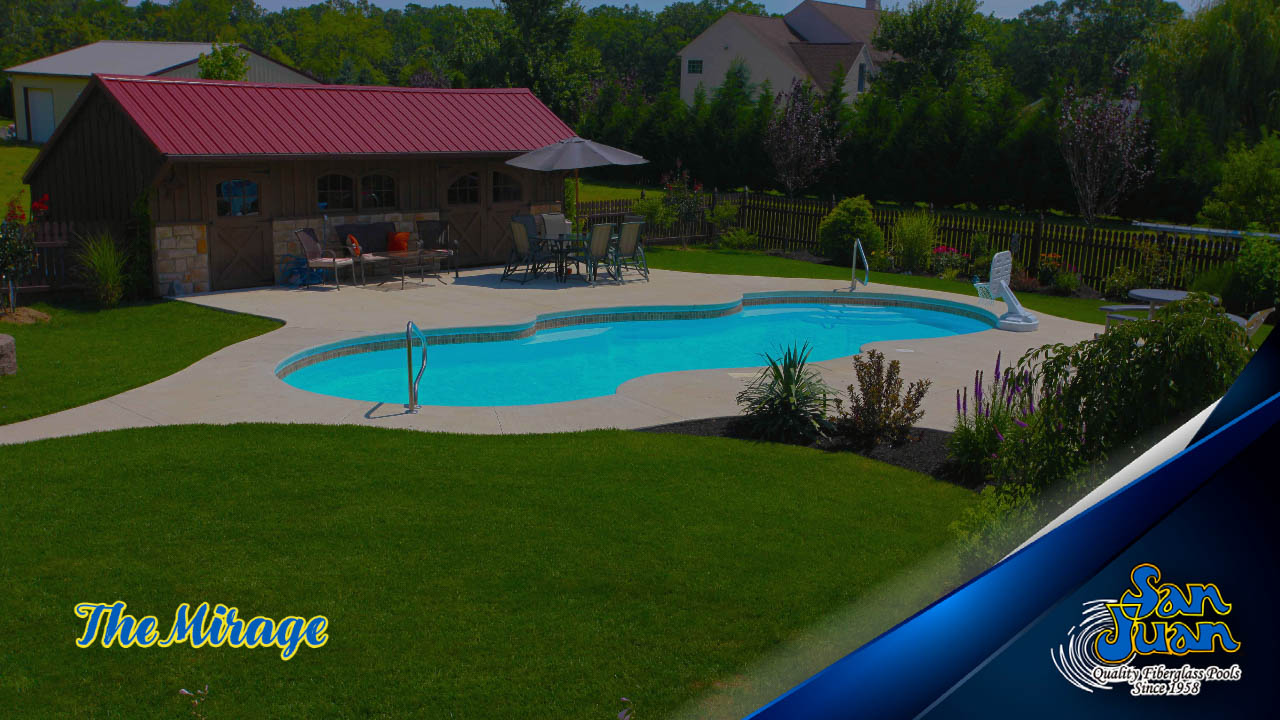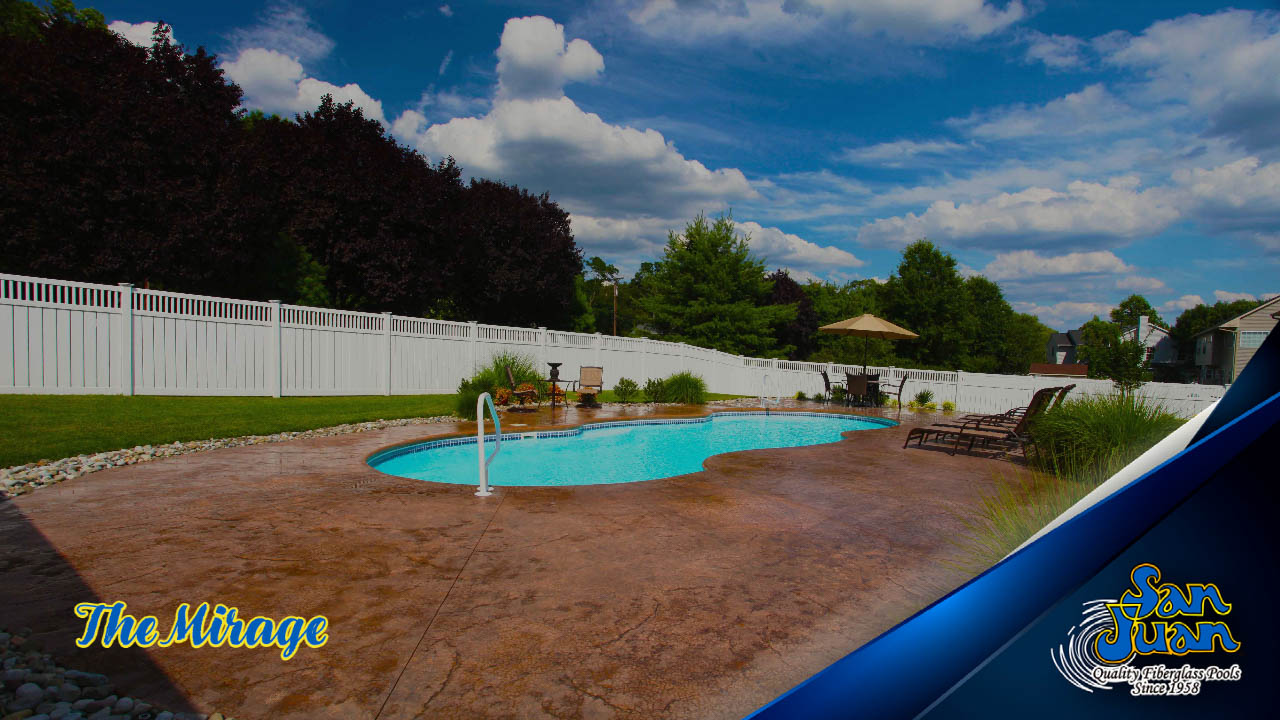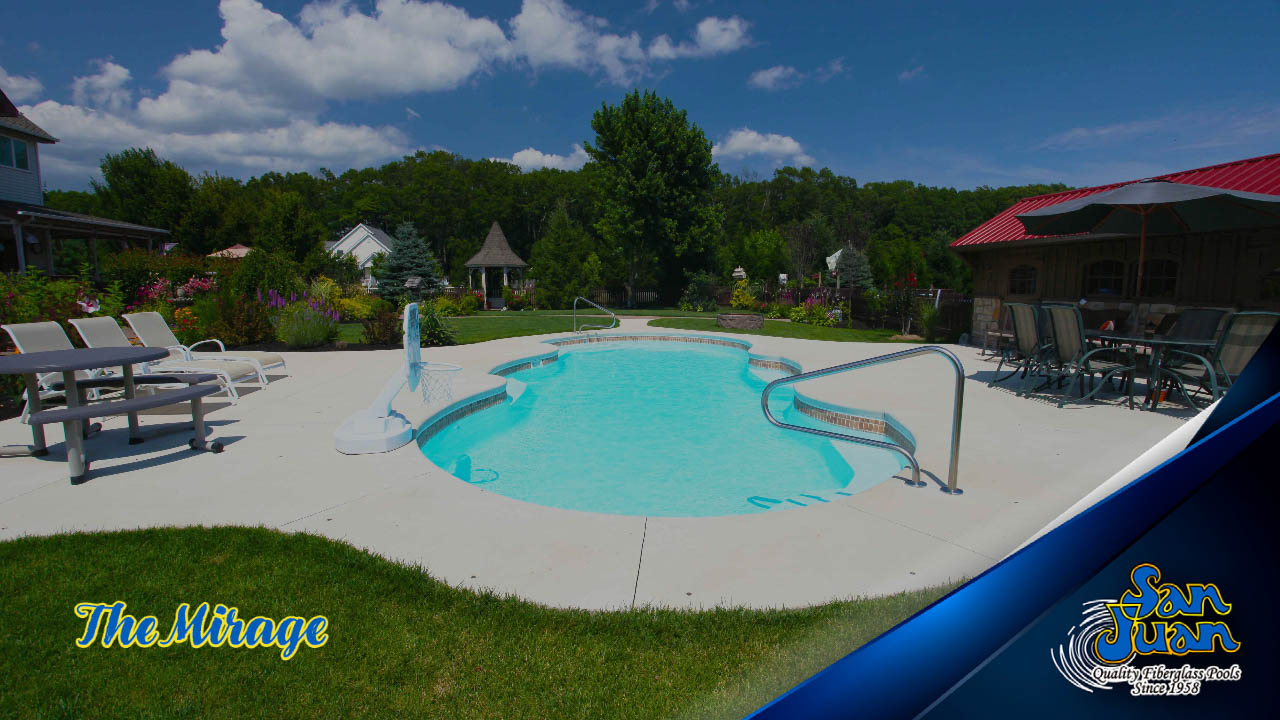 The Mirage - A Sport Bottom Hopper with Mirror Design
The Mirage - A Sport Bottom Hopper with Mirror Design
The Mirage - A Sport Bottom Hopper with Mirror Design
The Mirage - A Sport Bottom Hopper with Mirror Design
The Mirage - A Sport Bottom Hopper with Mirror Design
The Mirage - A Sport Bottom Hopper with Mirror Design
The Mirage - A Sport Bottom Hopper with Mirror Design
The Mirage - A Sport Bottom Hopper with Mirror Design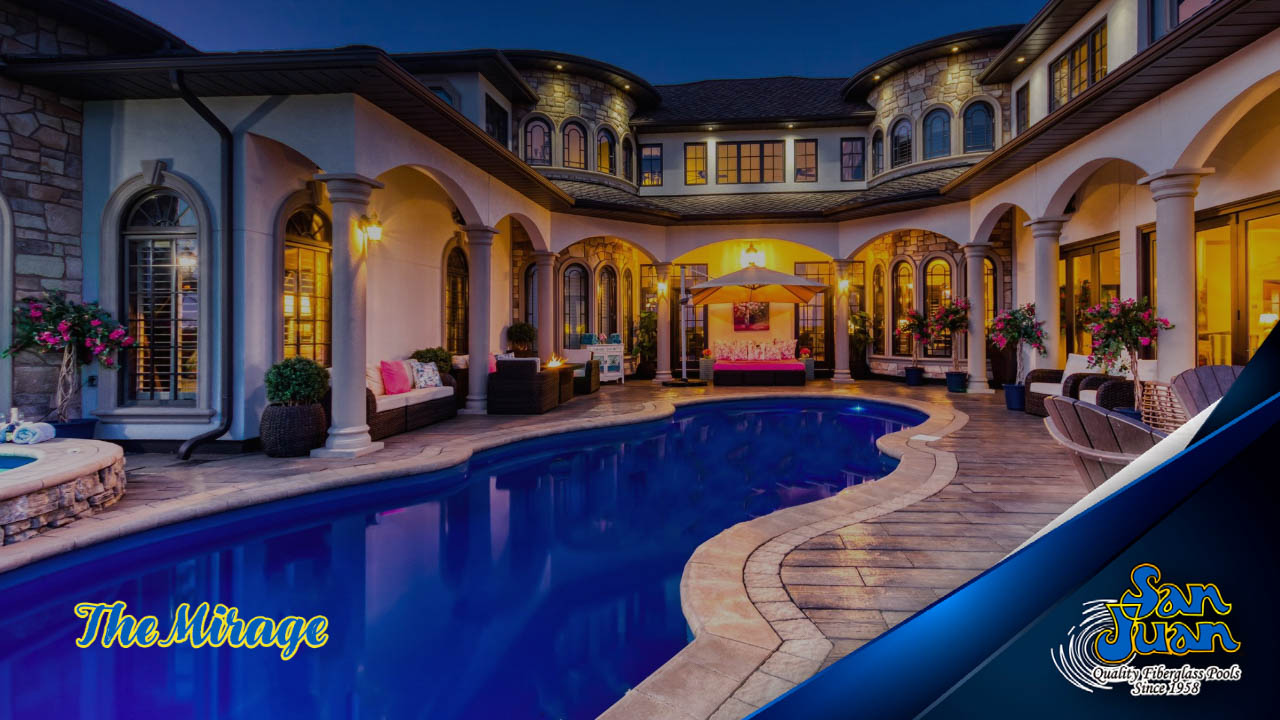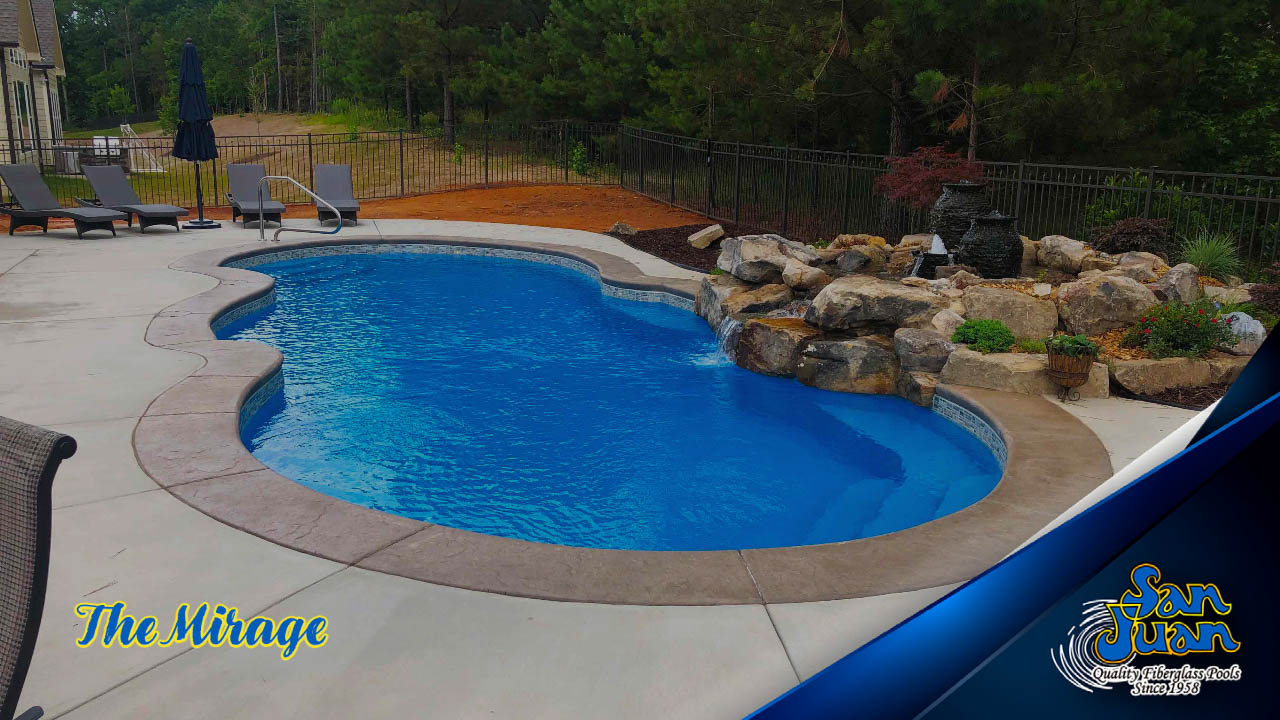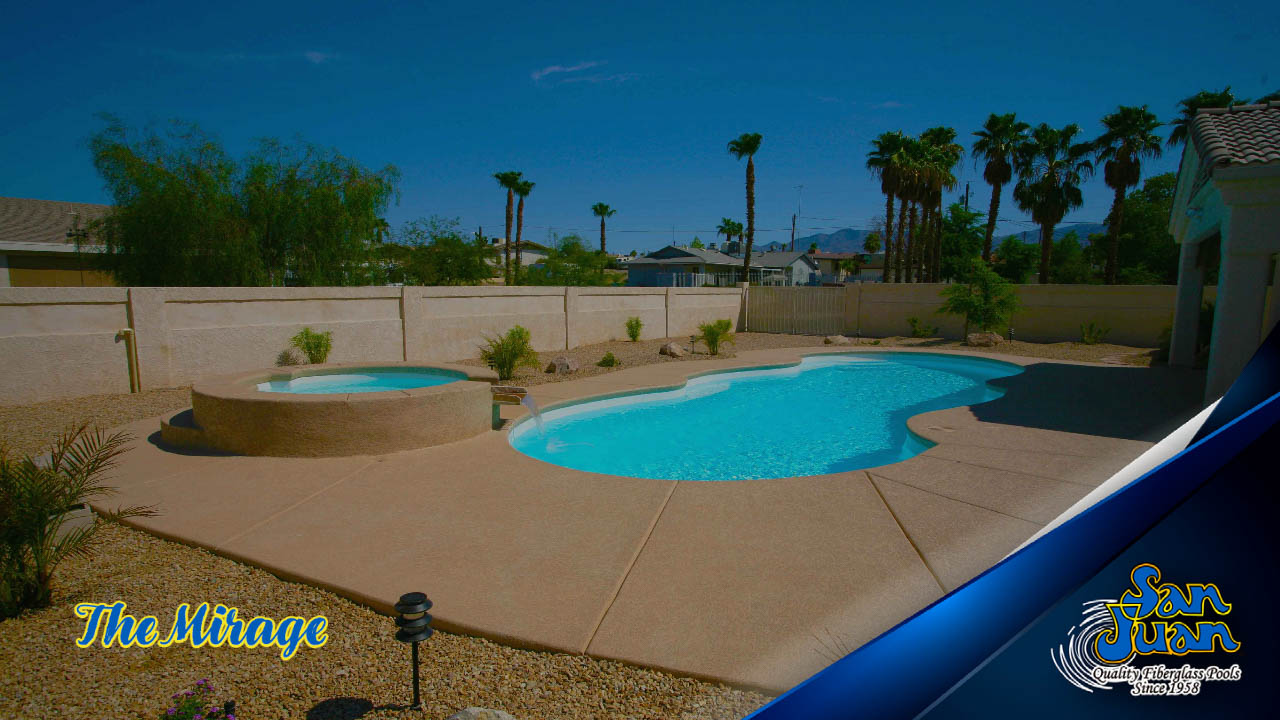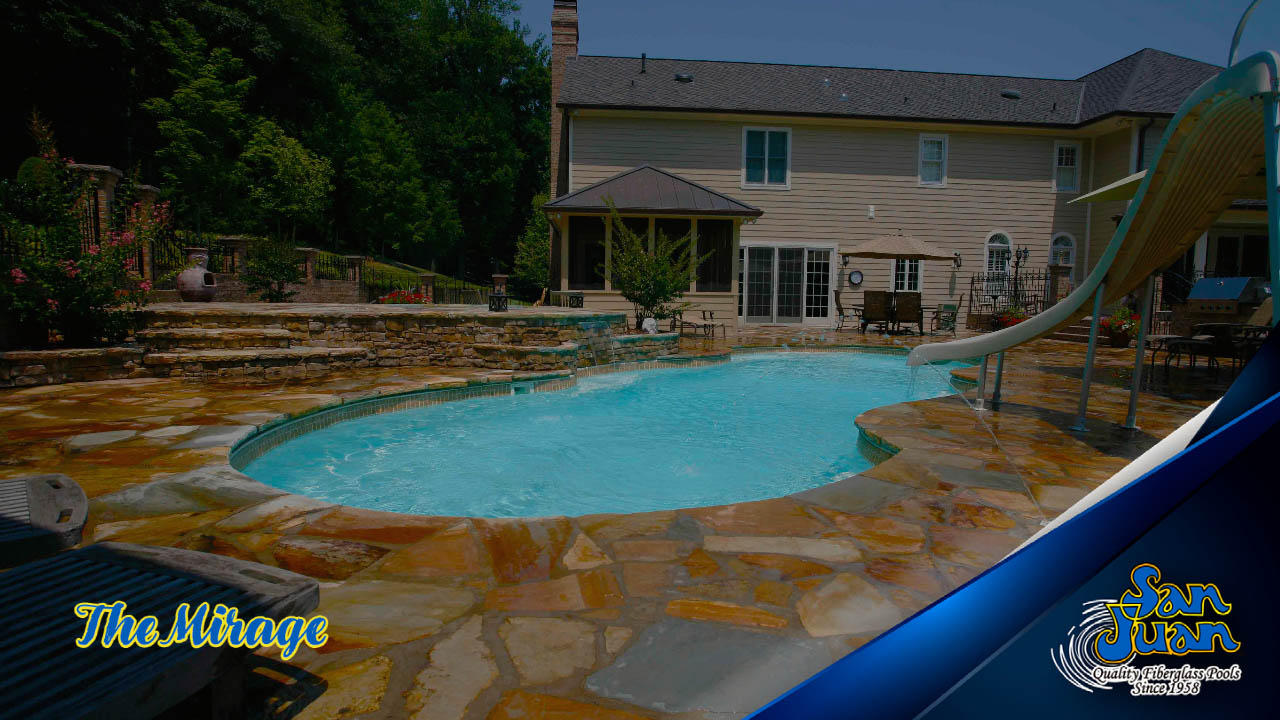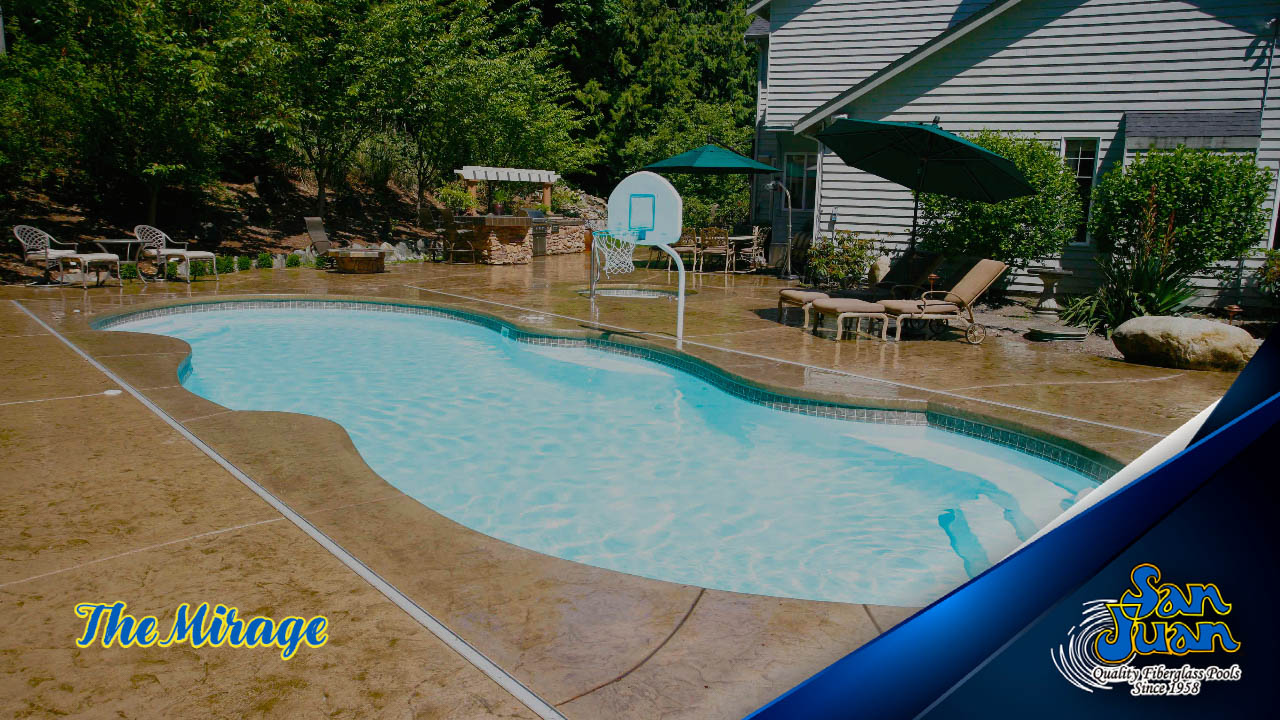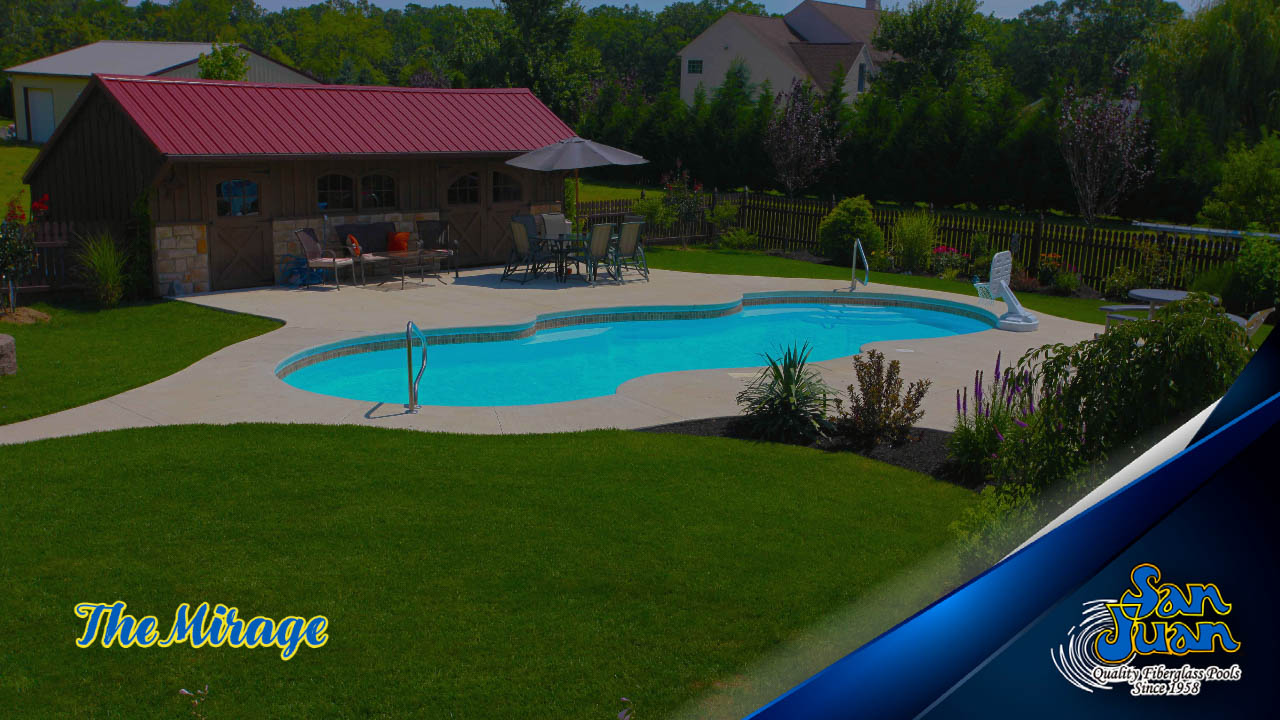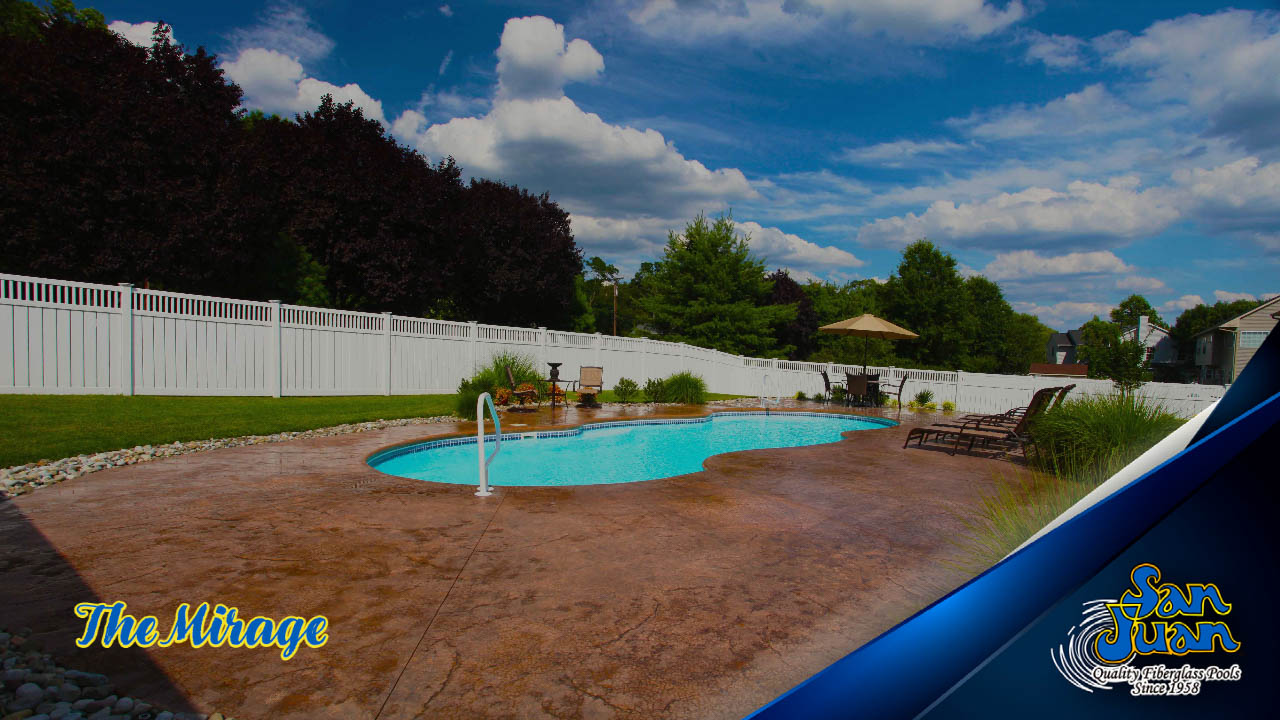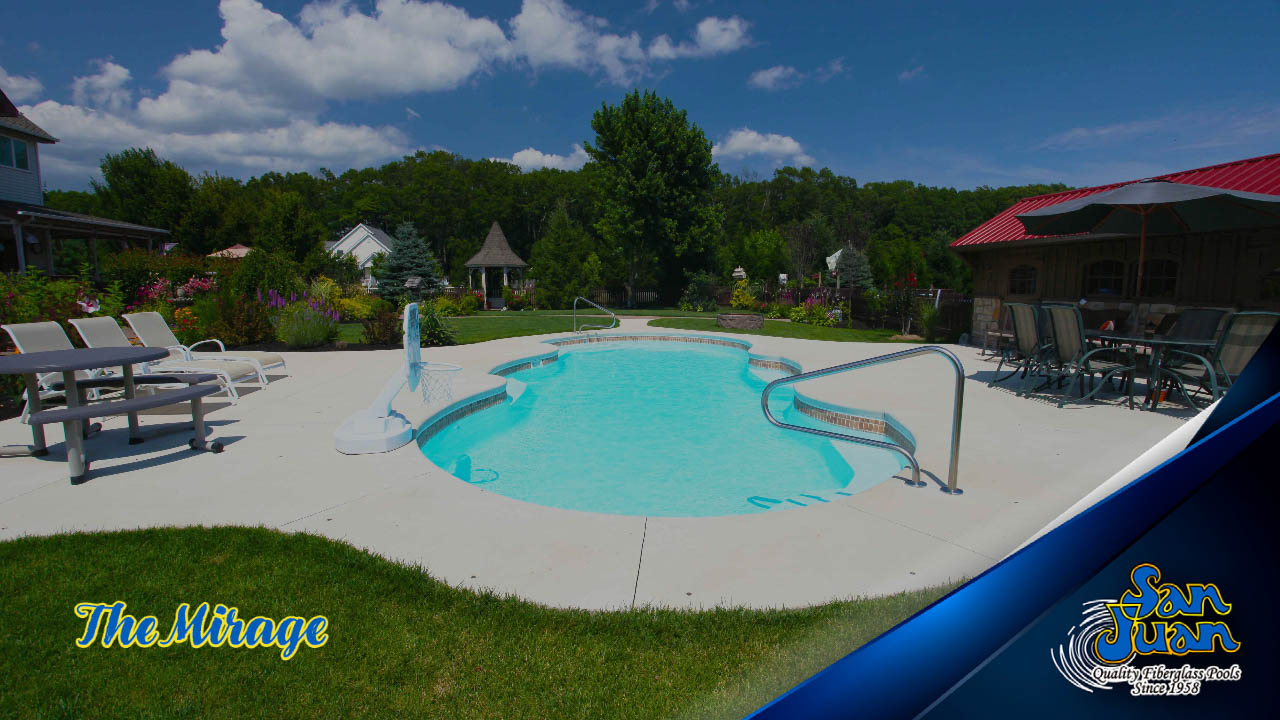 The Pool Specs
Width: 15′ 8″ O.D.

(14′ 9″ I.D.)

Length: 39′ 8″ O.D.

(38′ 9″ I.D.)

Depth: 5′ 4″
Surface Area: 475 SQFT
Volume: 14,050 Gallons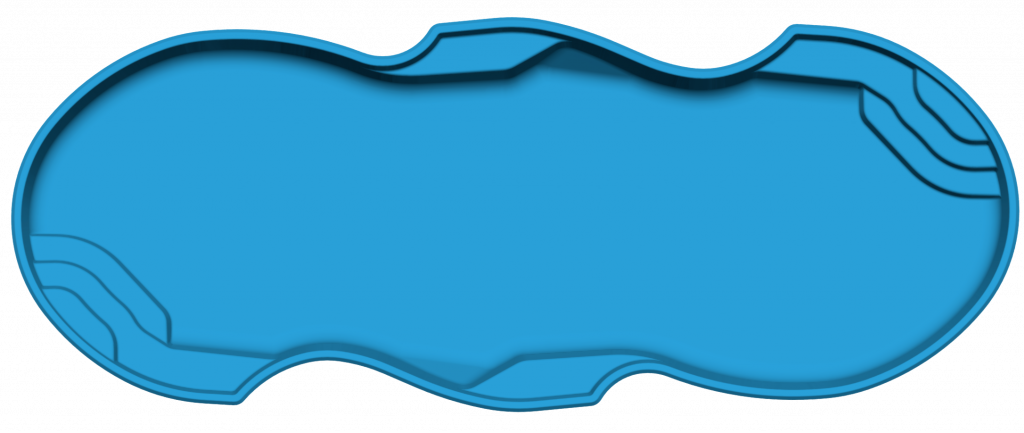 The Mirage – A Sport Bottom Hopper with Mirror Design
For those shopping for a larger pool model, we introduce the Mirage fiberglass pool. This modern design features an optimal length of 38′ 9″, width of 14′ 9″ & maximum depth of 5′ 4″. The Mirage is part of our Free Form family due to its variety of curves which house convenient deep-end benches and dual entry steps. We compliment these free-form curves with a Sport Bottom design. By definition, sport bottom swimming pools have shallow zones on both ends with the deep end located in the middle of the pool.
Long story short, the Mirage is packed full of unique features that only a large swimming pool can contain. Our last fun twist on the Mirage is its Mirror Layout. As you can see from the image above, the Mirage is a complete reflection from one end to another. This provides a modern layout that is very unique and has a lot of possibilities for landscaping & furniture placement.
The Mirage is a Sport Bottom Hopper (Deep End) design with a mirror layout. This pool is extra large with an overall length of 38′ 9″ & a modest width of 14′ 9″. It provides a large footprint for maximum swim space and outdoor fun!
Long Length & Free Form Design
In addition to its mirror layout and fun-packed features, the Mirage provides ample swim space for its guests. Its superior length and modest width create a great space for all forms of outdoor swim activities. Hop in for a nice set of laps before or after work, play a fun game of volleyball or Marco Polo. To say the least, you've got plenty of space to create the memories you want in this beautiful large fiberglass pool shape!
Modern Shape for Unique Designs
We are continually examining our pool selection and advancing our designs to match consumer demand. In today's age, many homeowners and builders are moving towards modern swimming pool designs. Therefore, to capture market share, San Juan Pools is pushing modern designs for all sizes of fiberglass pool shells. The Mirage is a perfect example of this initiative.
The Features of The Mirage
In conclusion, the Mirage is a fully functional fiberglass pool design that enhances your backyard living experience! This swimming pool is designed to deliver exceptional benefits including:
Modern free form design
Mirror layout
Sport Bottom Hopper – maximum depth of 5′ 4″
Length optimal for water games & lap swimming
Plenty of Bench Seating & Dual Entry Steps
If you're looking for a fun pool shape that is designed for hours of entertainment, the Mirage is a solid choice! We also recommend adding a fiberglass spa for added entertainment and warmth during the cold winter months.
San Juan Fiberglass Pools
2302 Lasso Lane Lakeland, FL 33801
+1 877-424-3010
https://SanJuanPools.Com/
Connect with San Juan Fiberglass Pools online:
Visit the San Juan Fiberglass Pools WEBSITE: https://bit.ly/SJPWebSite
Visit the San Juan Fiberglass Pools GMB: https://bit.ly/SJPGoogleMyBusiness
Like San Juan Fiberglass Pools on FACEBOOK: https://bit.ly/SJPFacebook
Follow San Juan Fiberglass Pools on TWITTER: https://bit.ly/SJPTwitter
Review Us On Google: https://bit.ly/SJPGoogleReviews
Google Maps: https://bit.ly/SJPMaps
Google Search: https://bit.ly/SJPGoogleSearch