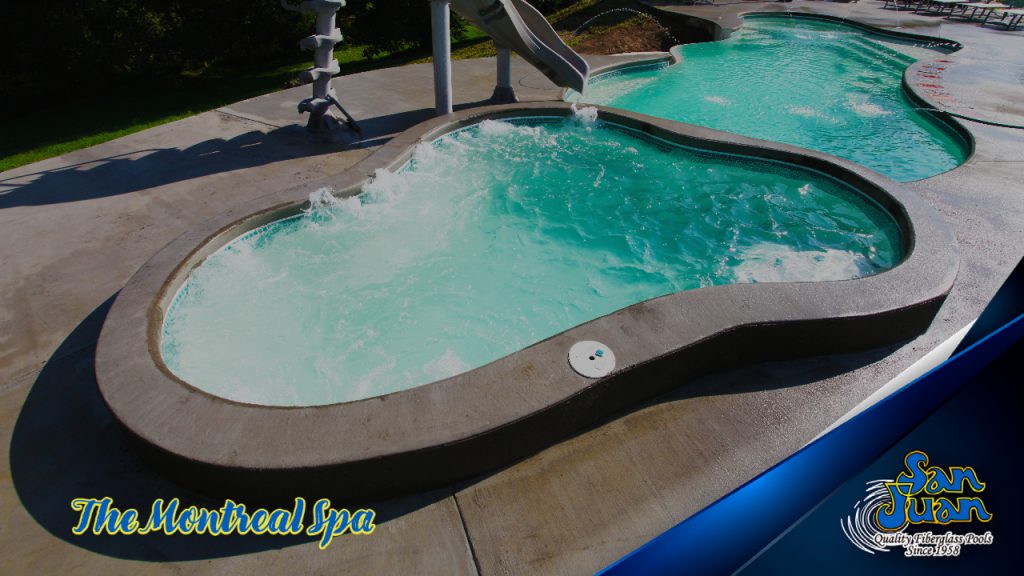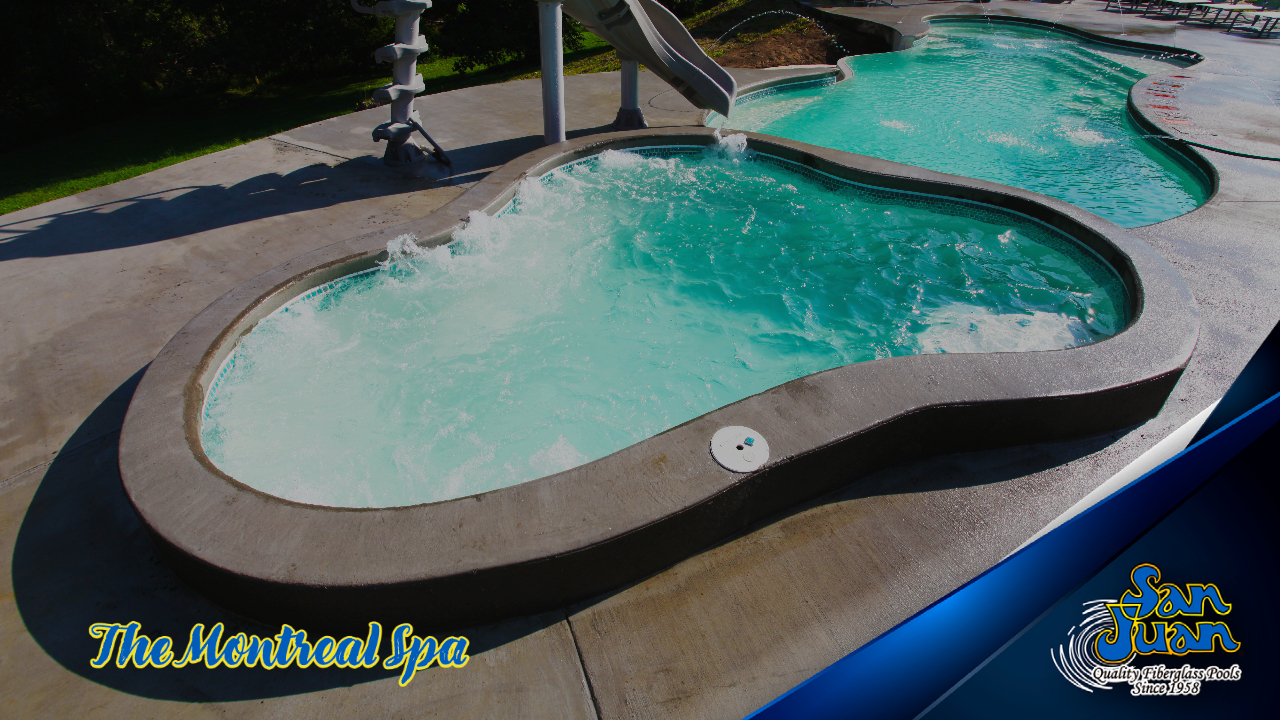 The Montreal Spa – A Medium Sized Fiberglass Spa
Are you looking for an addition to your existing swimming pool or constructing a new one altogether? Whatever stage of development you are in for your home, you can always benefit from installing The Montreal Spa in your backyard. Our fiberglass spas are renowned for their comfort, design and affordability!
The Montreal Spa is no exception and it's popular for both its shape & moderate size. Slightly smaller than the Vancouver & Sydney Spa, this spa holds a maximum of 1,925 Gallons. It also has an overall length of only 15′ 6″ which makes it a perfect fit for a wide range of backyard sizes.
Whether you have ample space or are living in an urban neighborhood – chances are, we can work with your allotted square footage. Therefore, let's take a closer look at this fantastic spa so you can determine if its the perfect spa to bring home to you!
Comfortably Seats 8-10 Guests
As illustrated above, the Montreal is best classified as a medium sized fiberglass spa. Although slightly less than 2,000 gallons it can still easily seat 8-10 guests in its serene waters. This makes it a popular design for small families, singles or couples.
Use it for warm water therapy, relaxing outdoors or even water aerobics – the Montreal Spa is both versatile and beautiful. In addition, this spa provides its user with a set of corner entry steps and a flat bottom layout. This allows the user to easily enter and exit the spa without bumping into other bathers.
This truly is a majestic spa that works wonderfully as a stand alone option or paired with one of our fiberglass pool models!
The Features of The Montreal Spa
In conclusion, the Montreal Spa is a beautiful free form fiberglass spa with a flat bottom layout. It can comfortably seat 8-10 bathers and is easy to maneuver due to its wide bench seating and corner entry steps.
You'll enjoy the Montreal Spa for its moderate size with a maximum water volume of only 1,925 gallons. This makes the Montreal Spa a perfect fit for small backyards or as an addition to any of our fiberglass pool models.
However you decide to utilize this creative design, it's certainly going to be a blessing for you, your home and family! Contact us today for a free estimate and find out if this fiberglass spa is a good fit for you!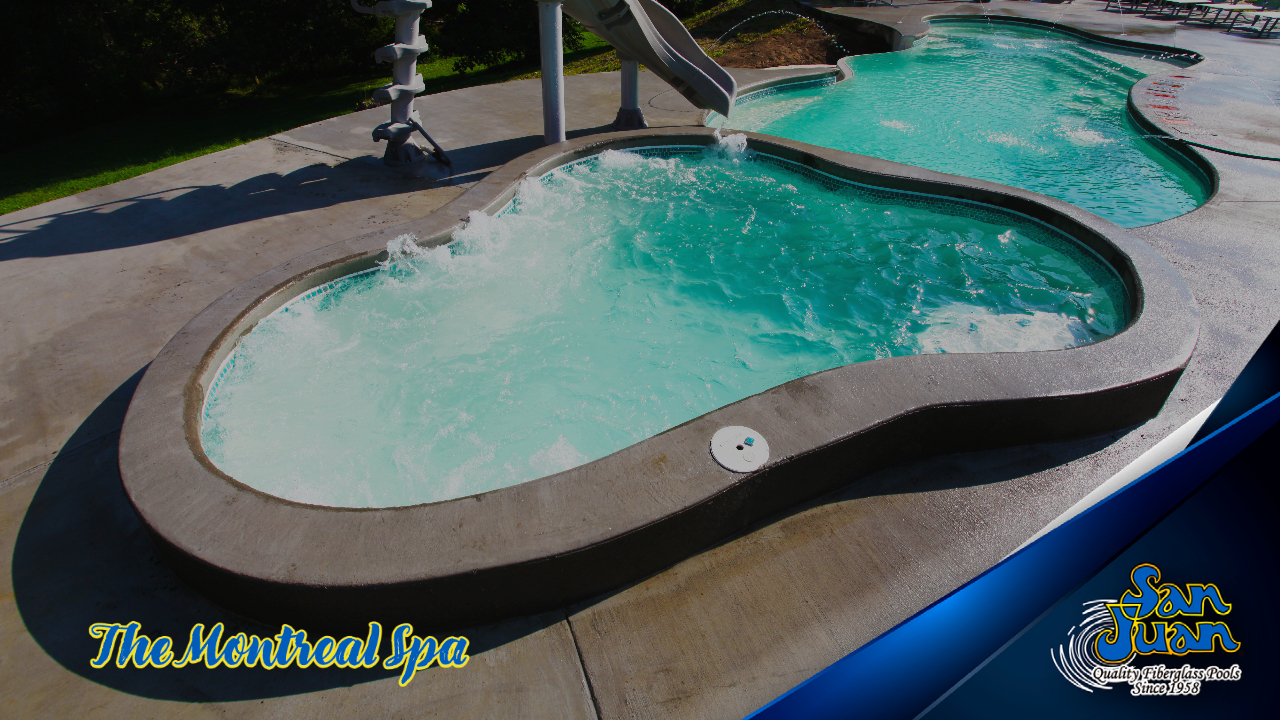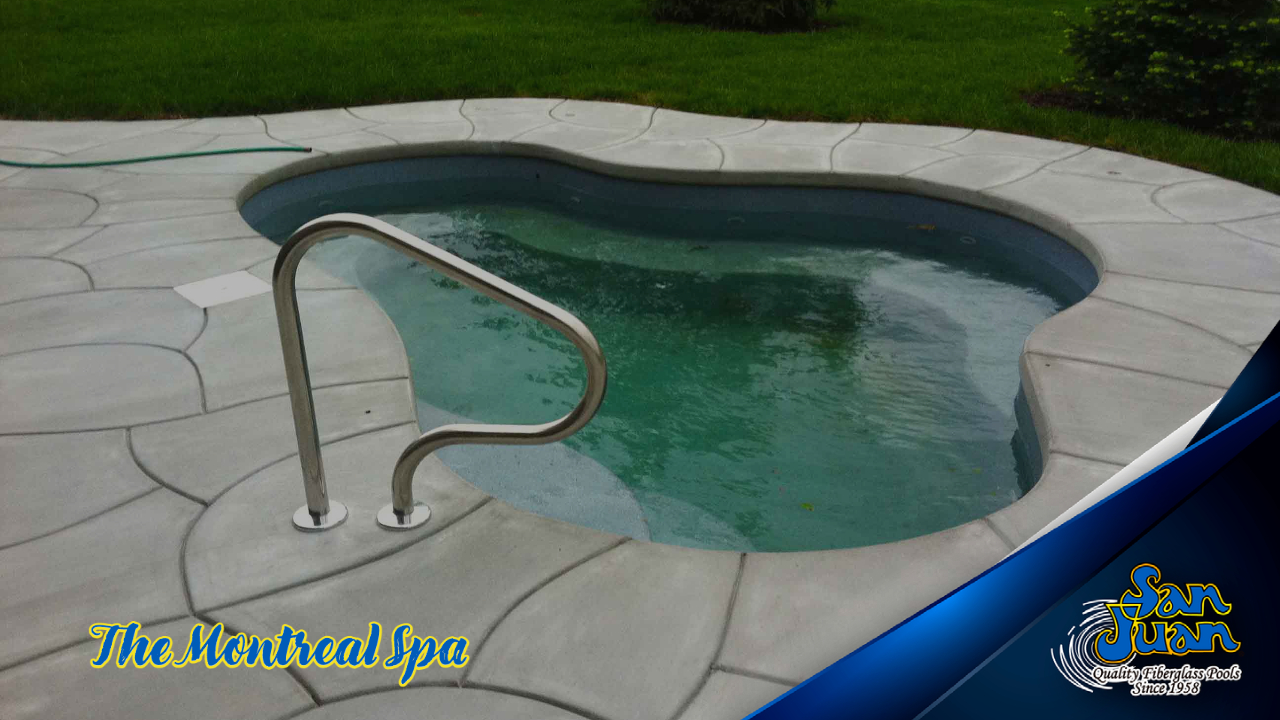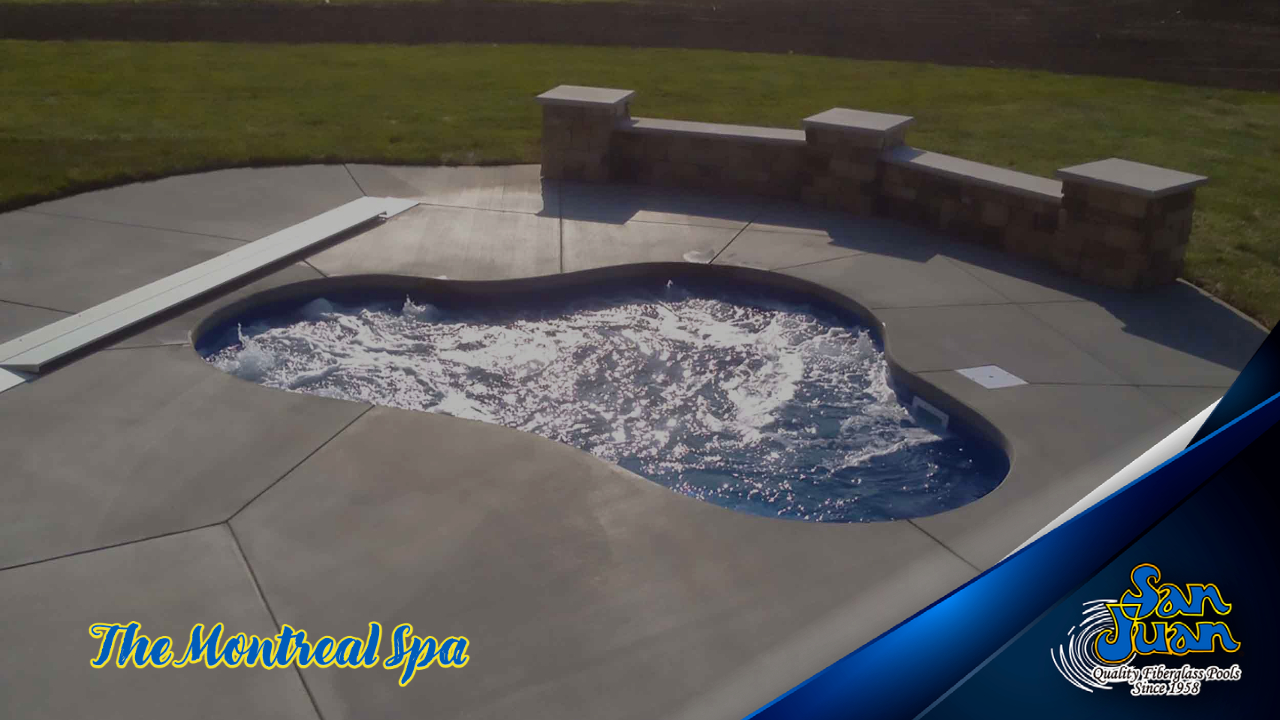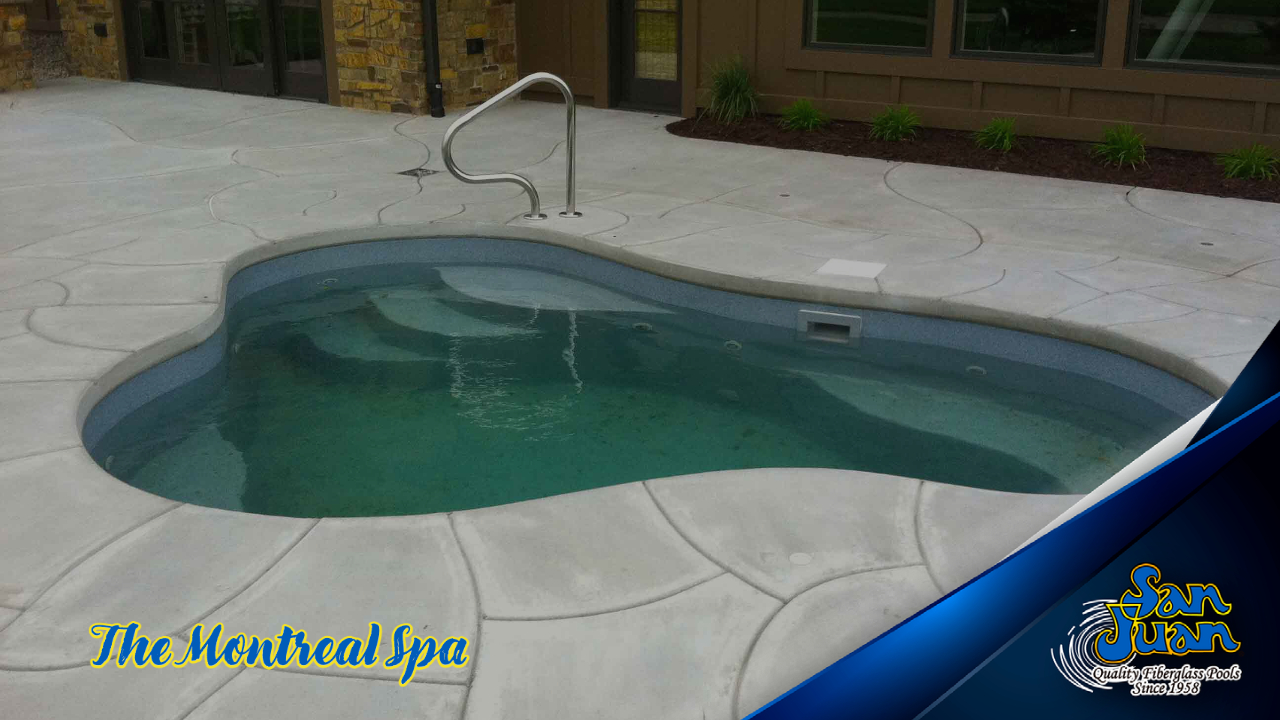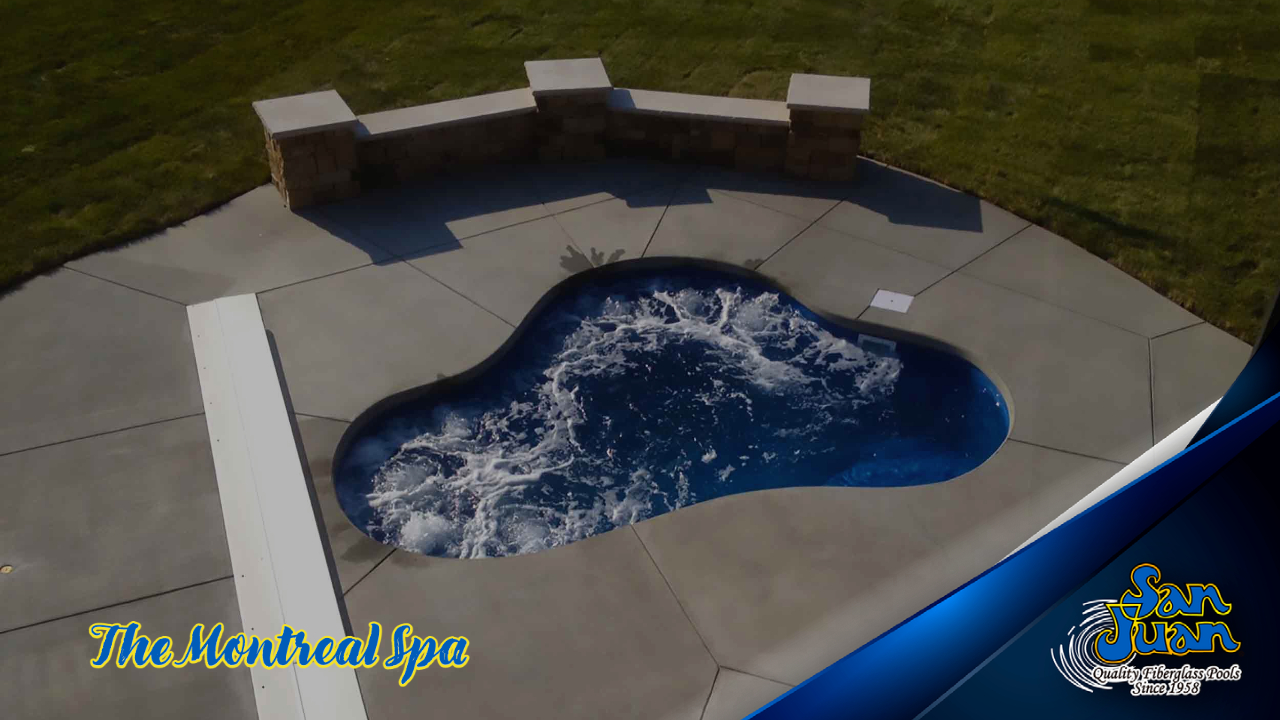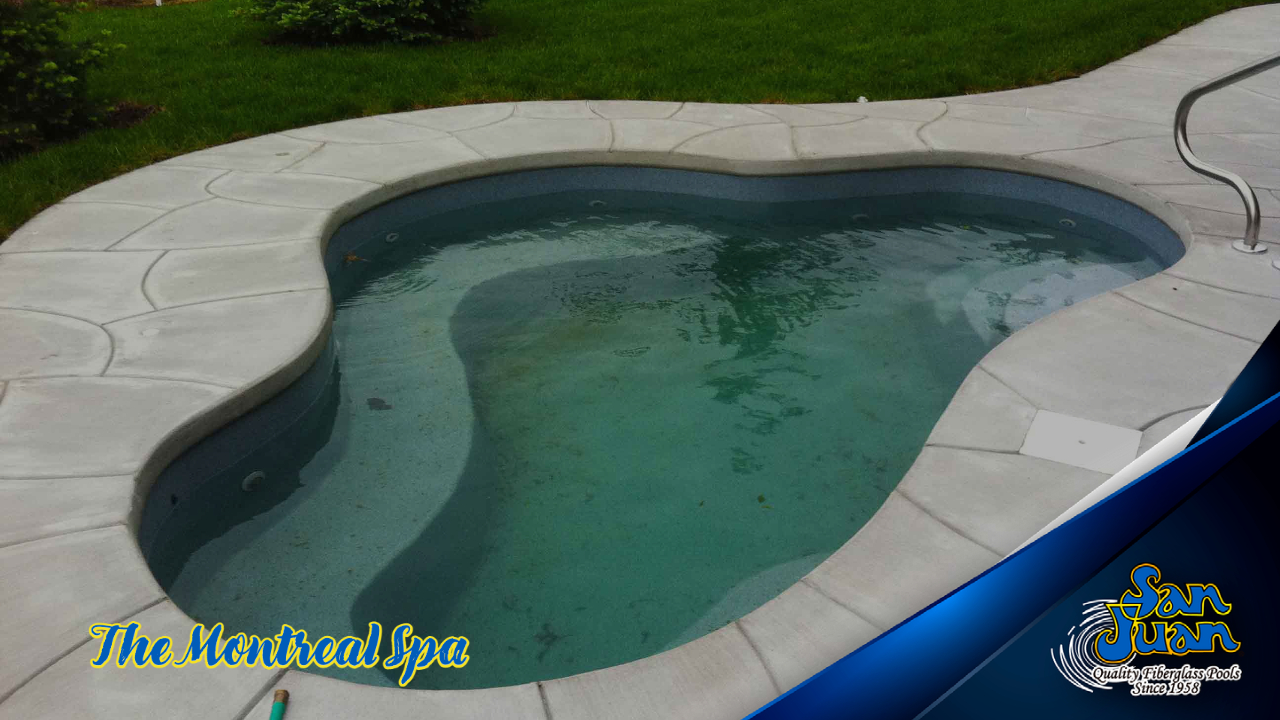 The Montreal Spa – A Medium Sized Fiberglass Spa
The Montreal Spa – A Medium Sized Fiberglass Spa
The Montreal Spa – A Medium Sized Fiberglass Spa
The Montreal Spa – A Medium Sized Fiberglass Spa
The Montreal Spa – A Medium Sized Fiberglass Spa
The Montreal Spa – A Medium Sized Fiberglass Spa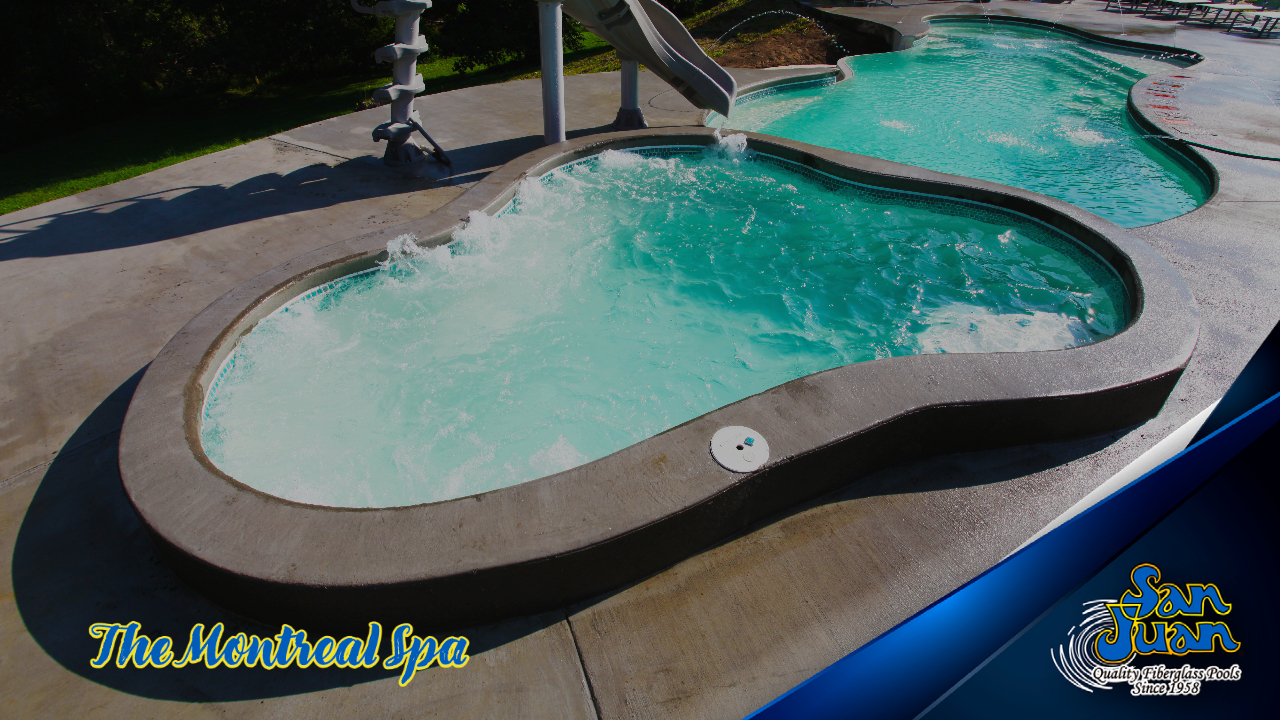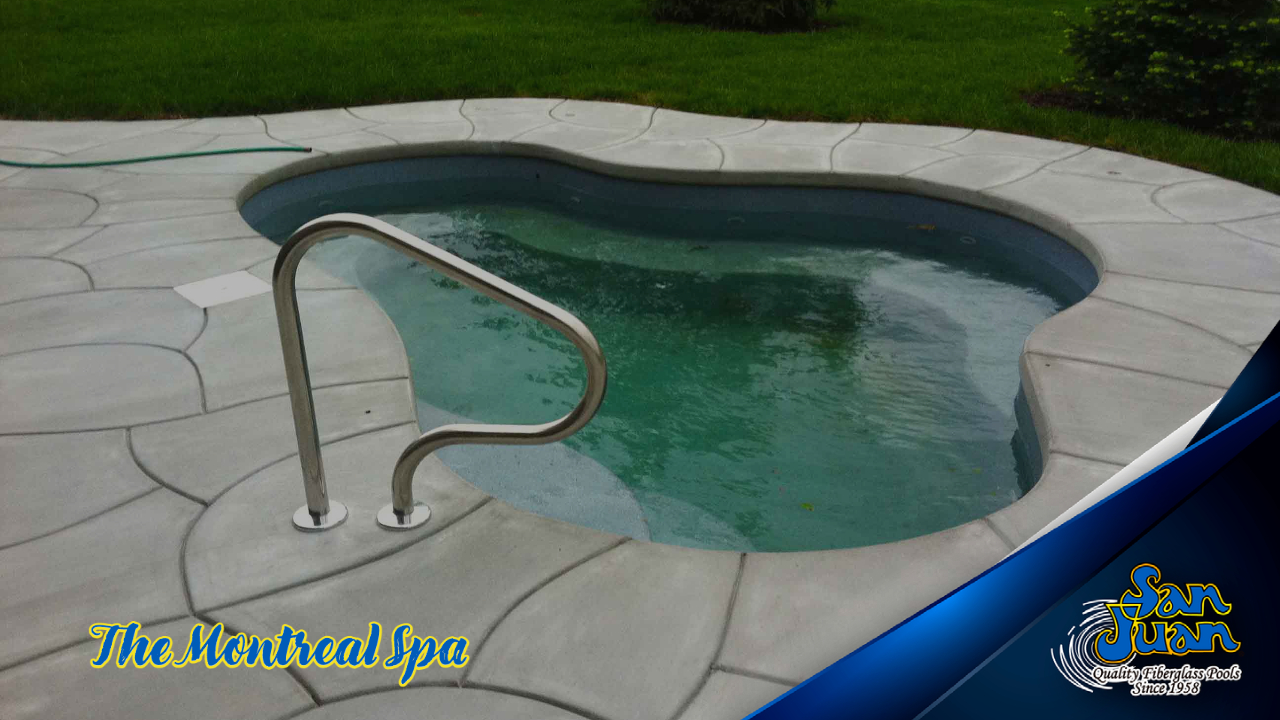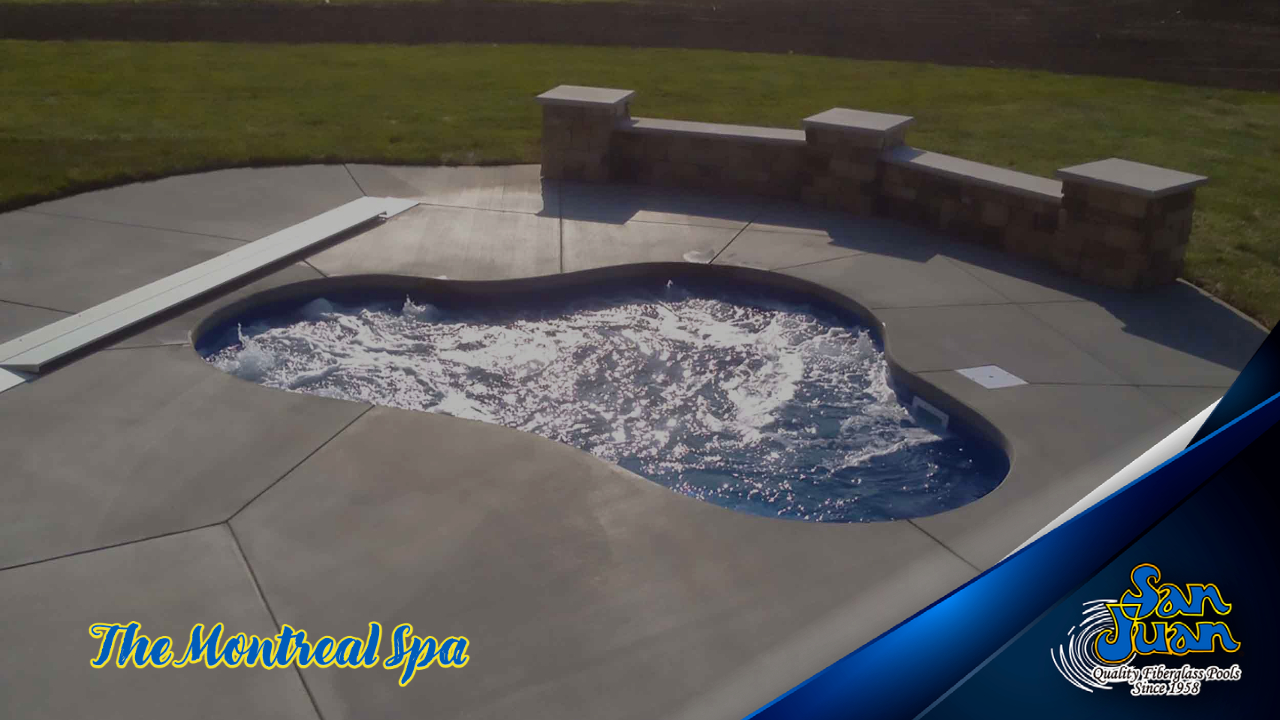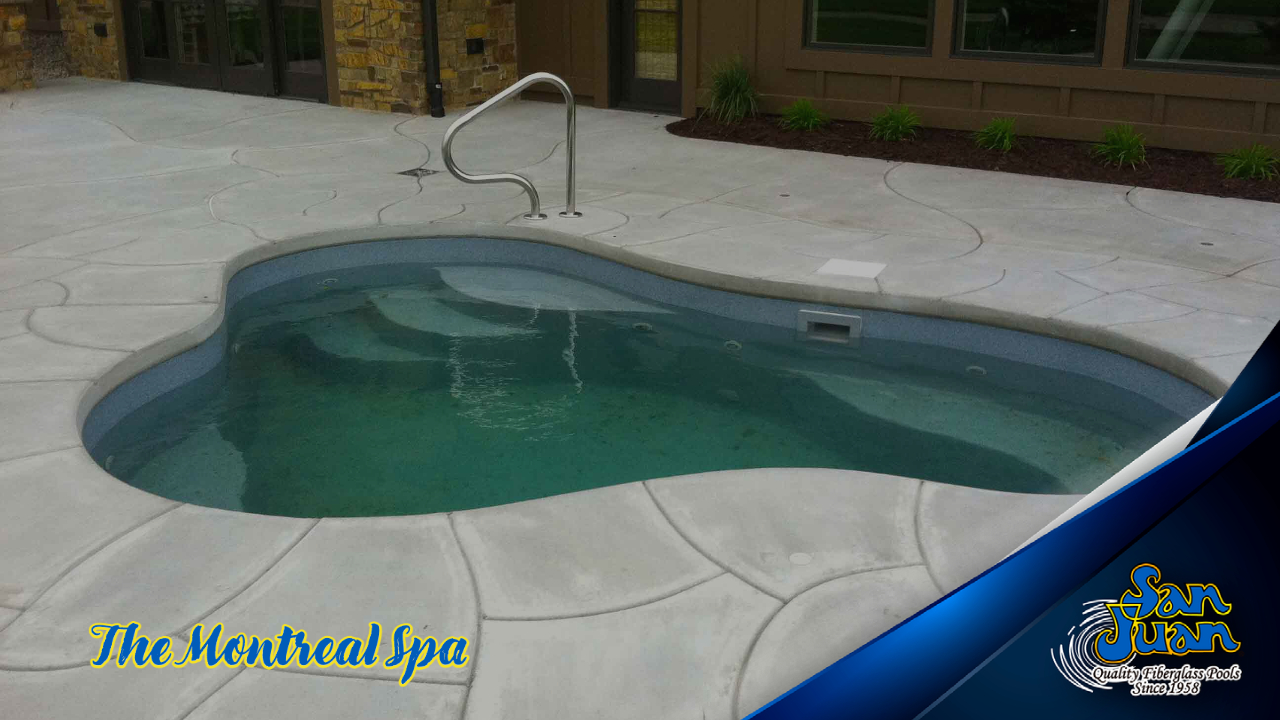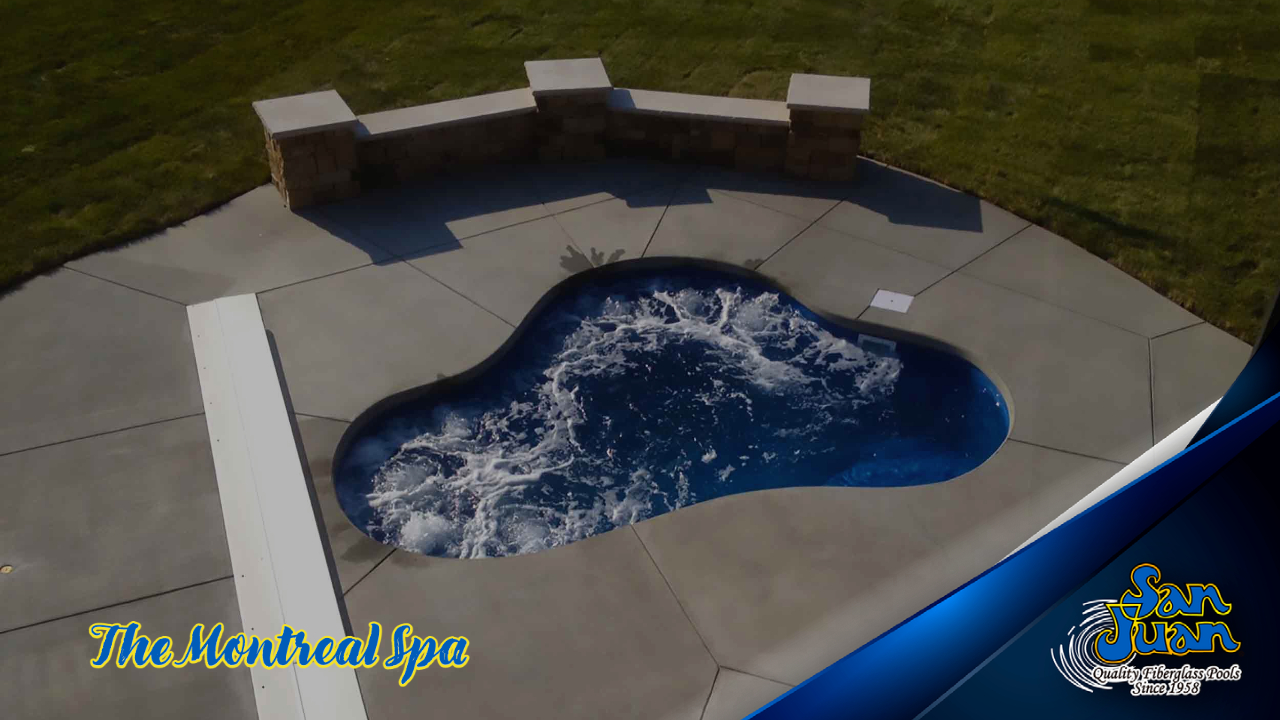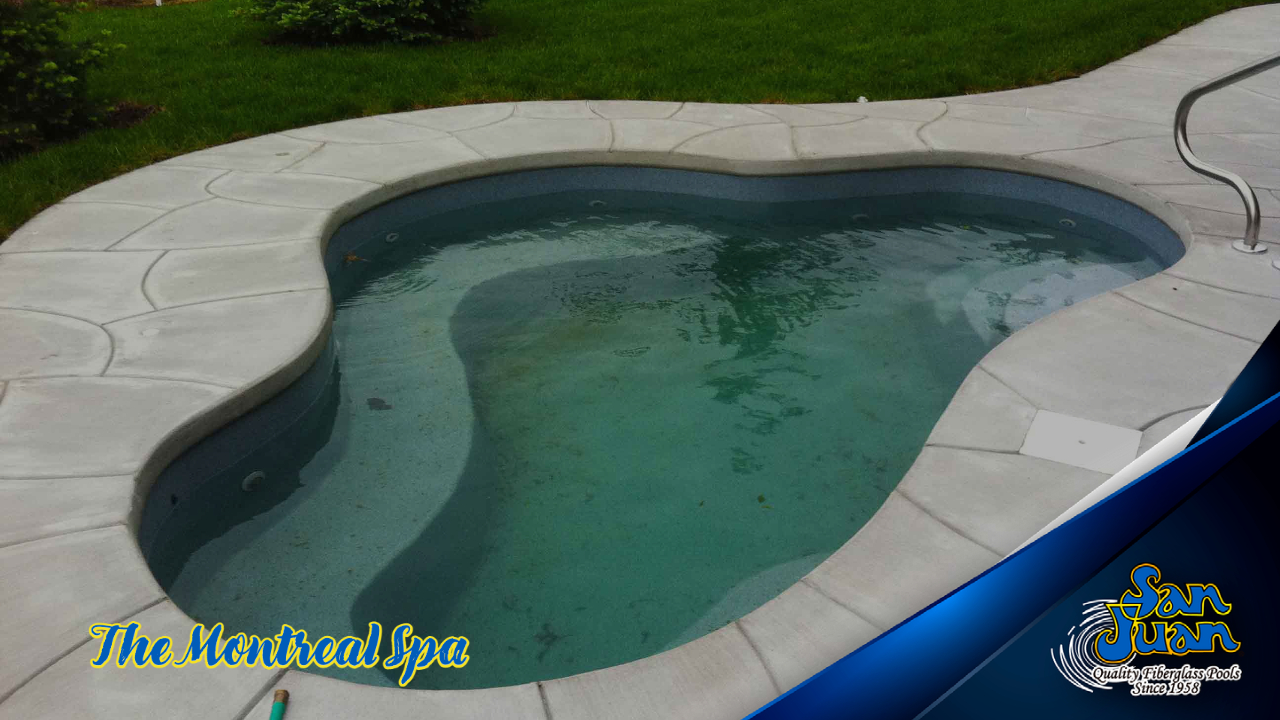 The Spa Specs
Width: 10′ 10″ O.D.

(9′ 10″ I.D.)

Length: 15′ 6″ O.D.

(14′ 5.5″ I.D.)

Depth: 3′ 9″
Surface Area: 99 SQFT
Volume: 1,925 Gallons