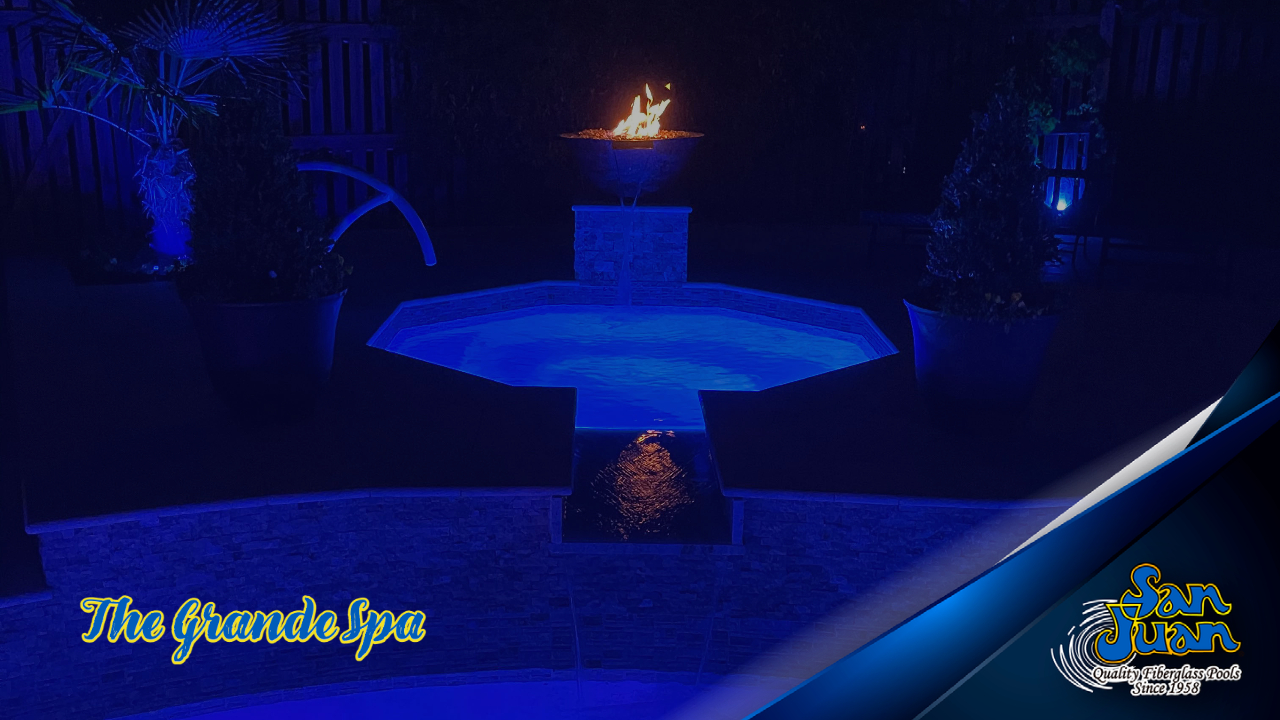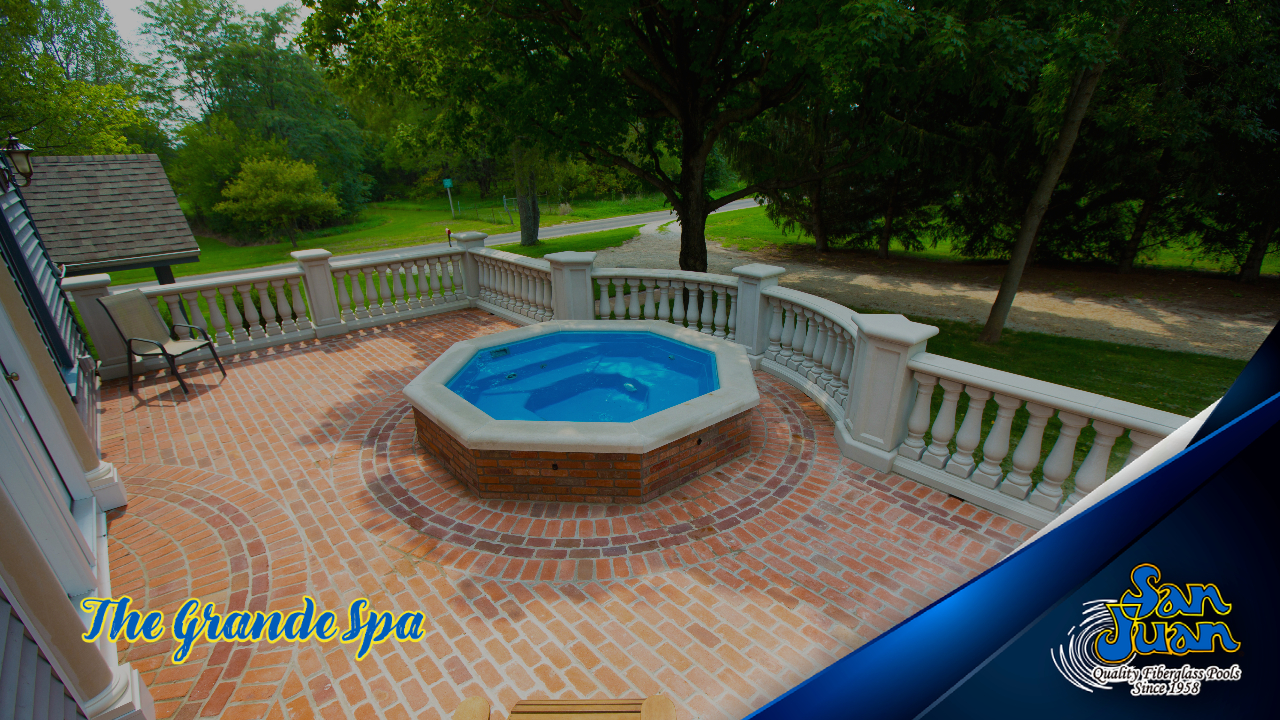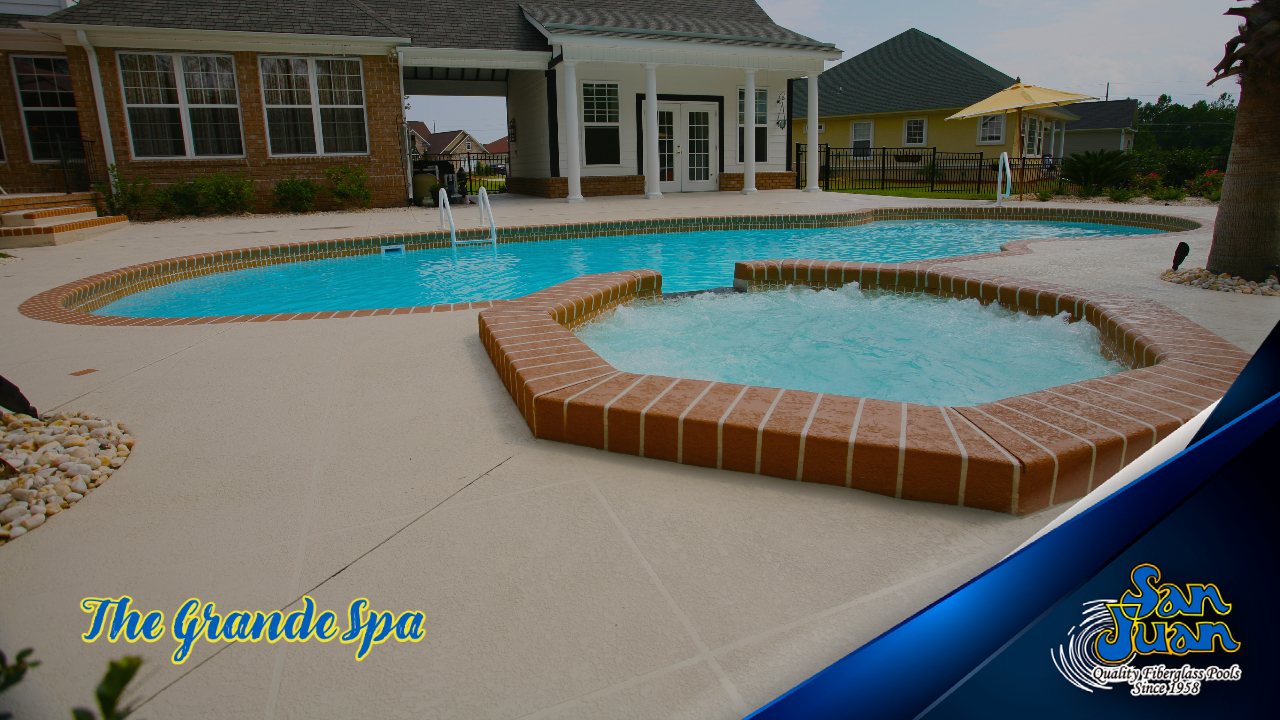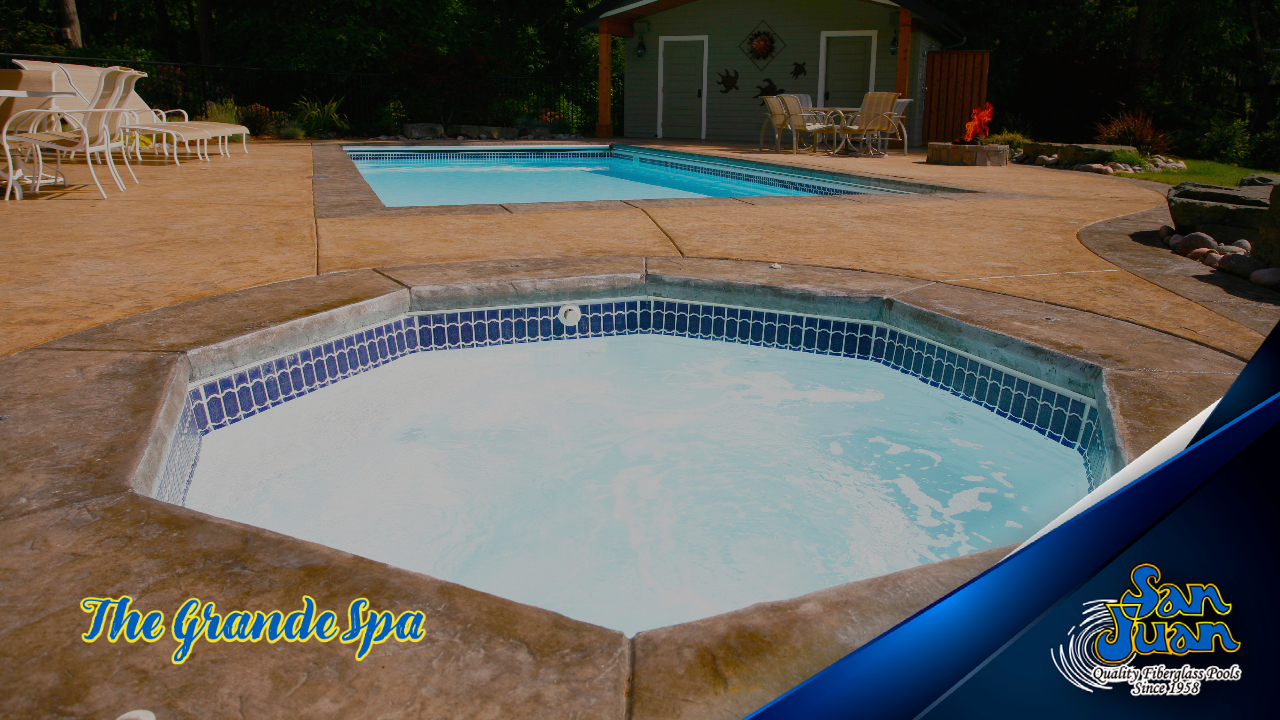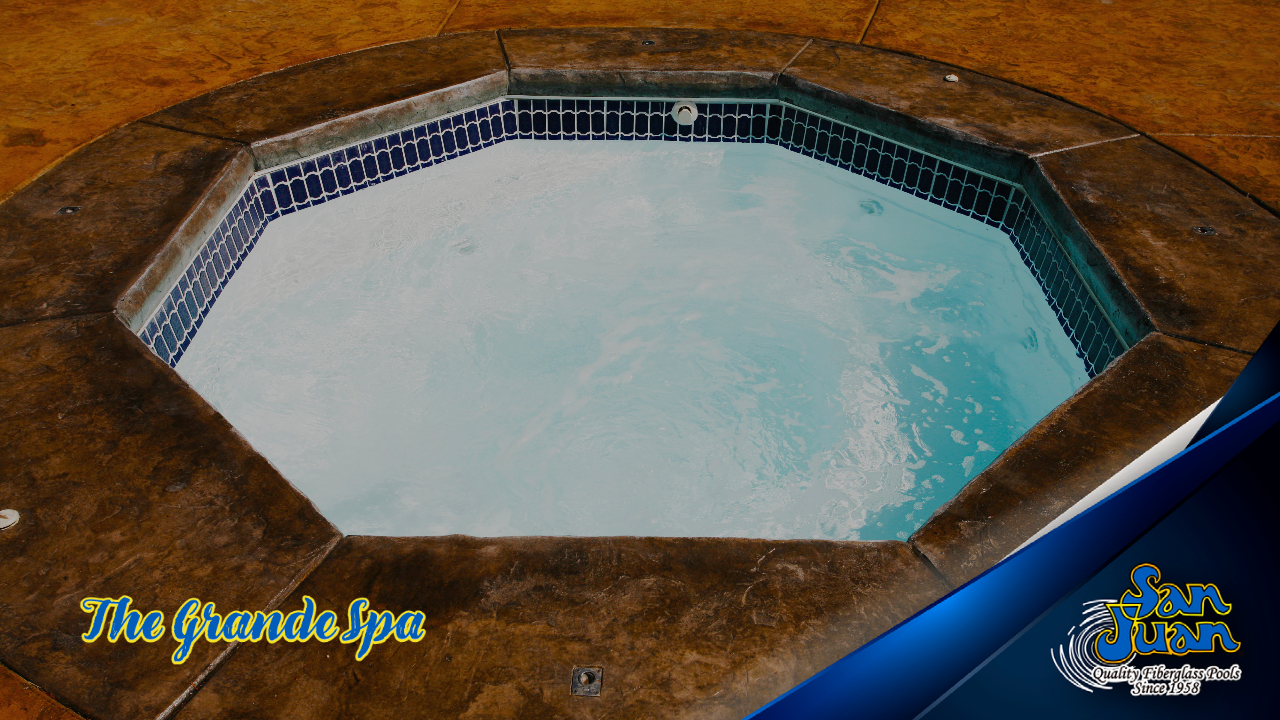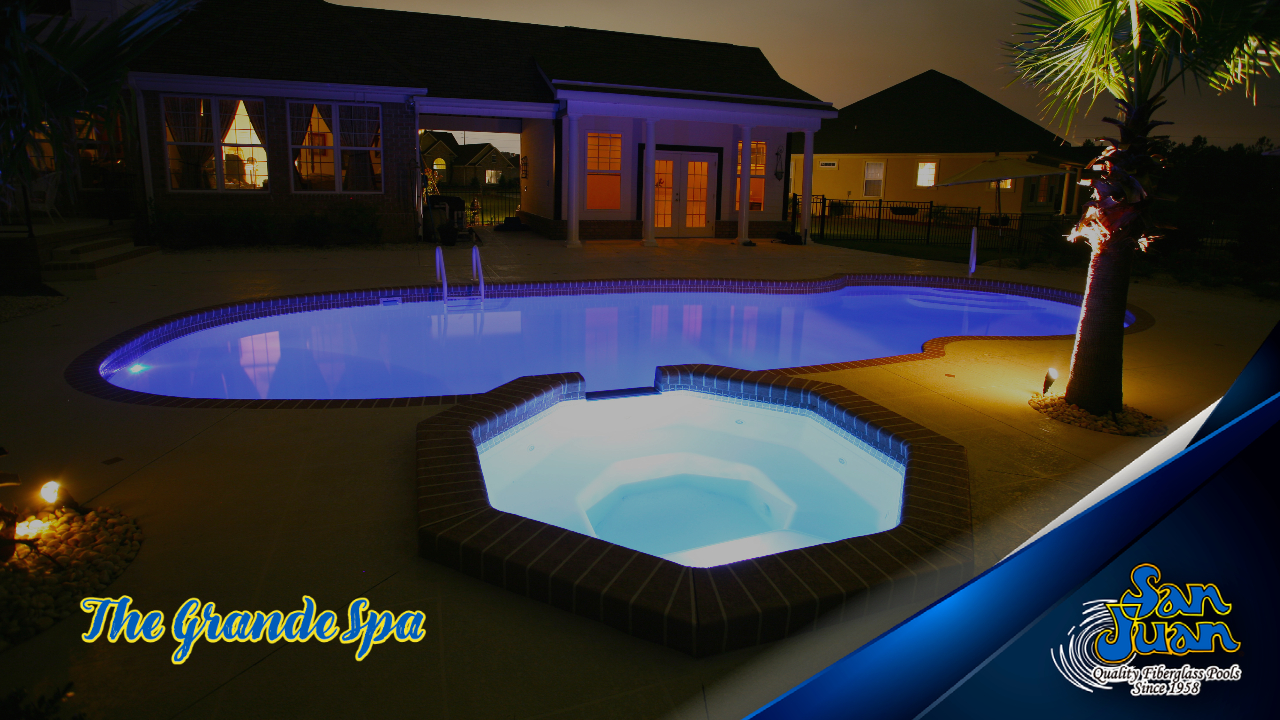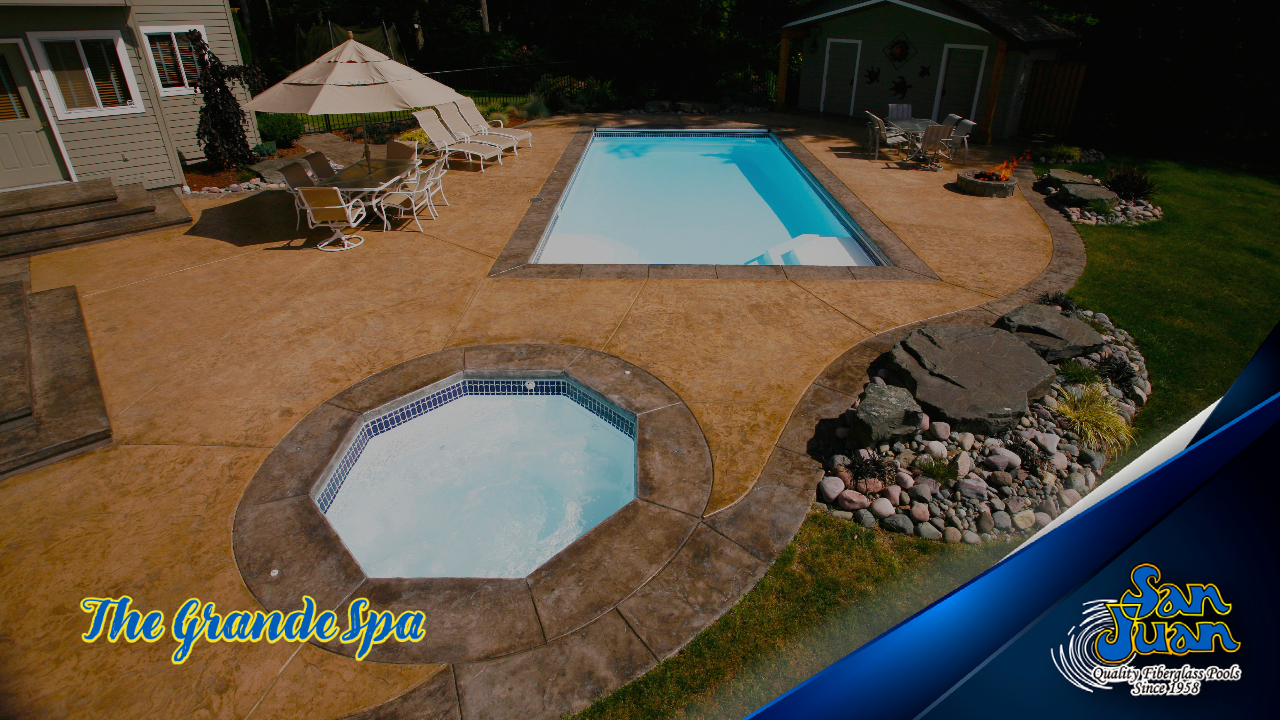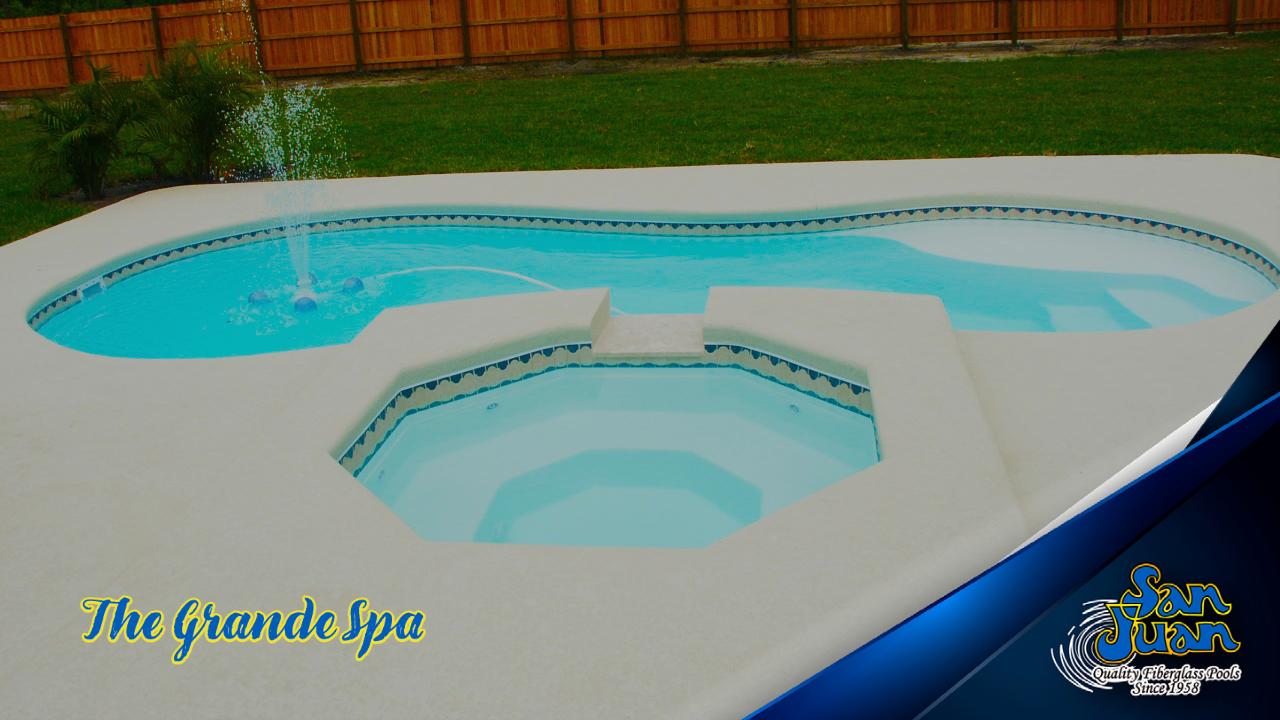 The Grande Spa – A Unique Octagon Layout
The Grande Spa – A Unique Octagon Layout
The Grande Spa – A Unique Octagon Layout
The Grande Spa – A Unique Octagon Layout
The Grande Spa – A Unique Octagon Layout
The Grande Spa – A Unique Octagon Layout
The Grande Spa – A Unique Octagon Layout
The Grande Spa – A Unique Octagon Layout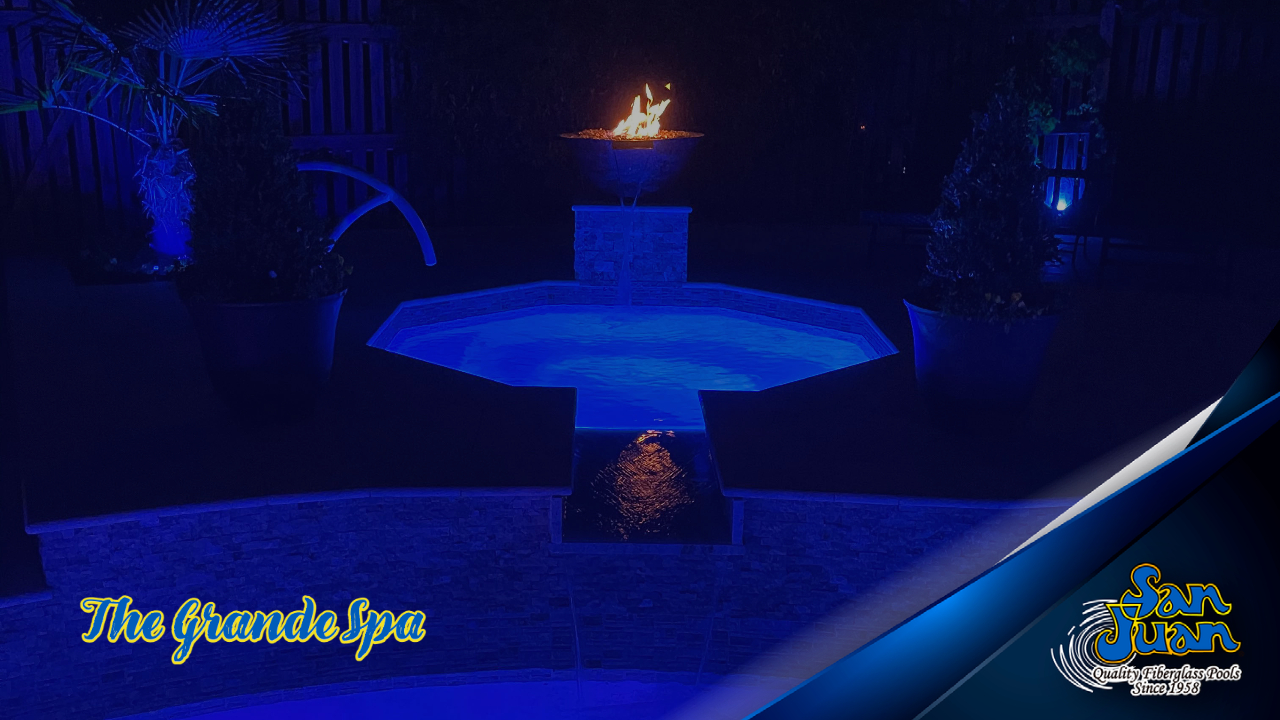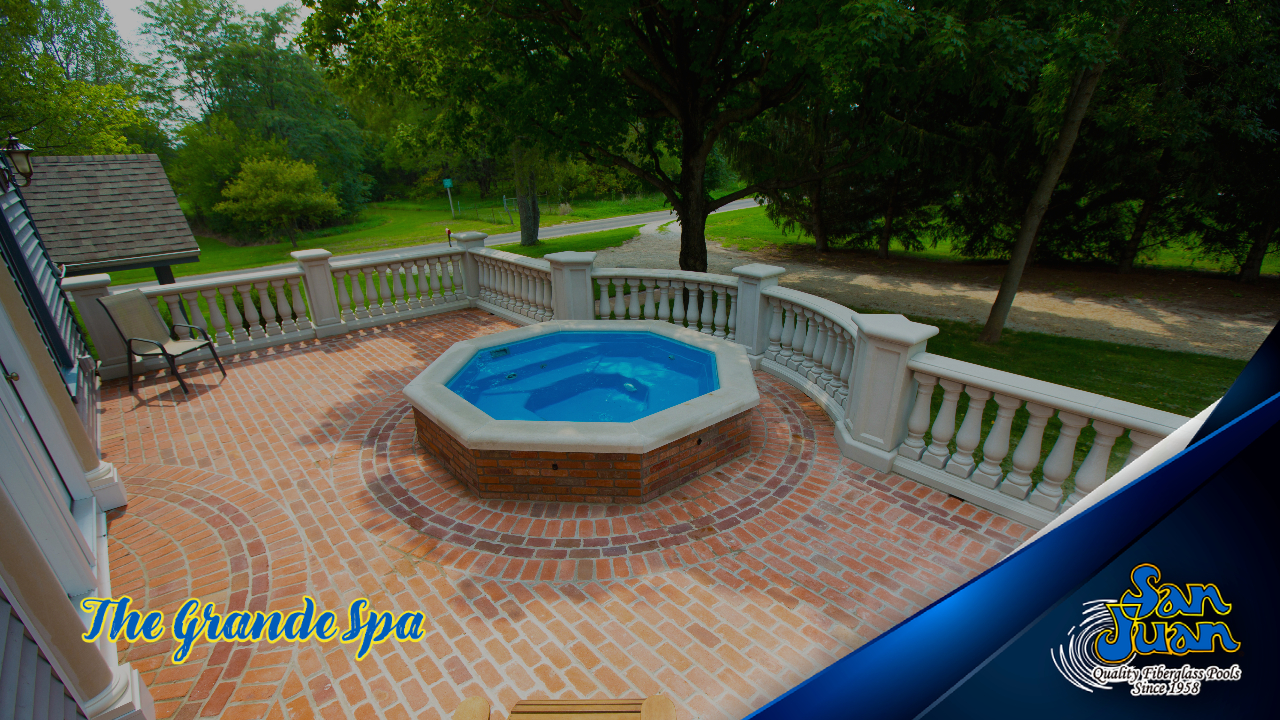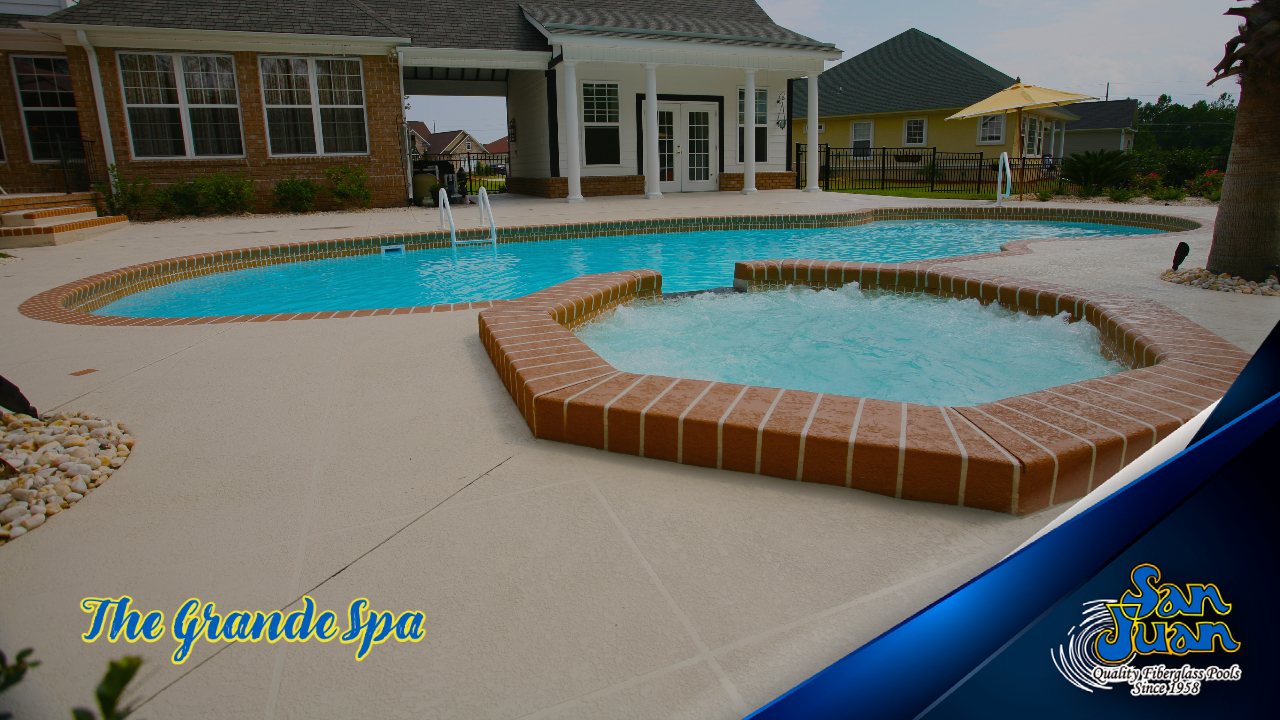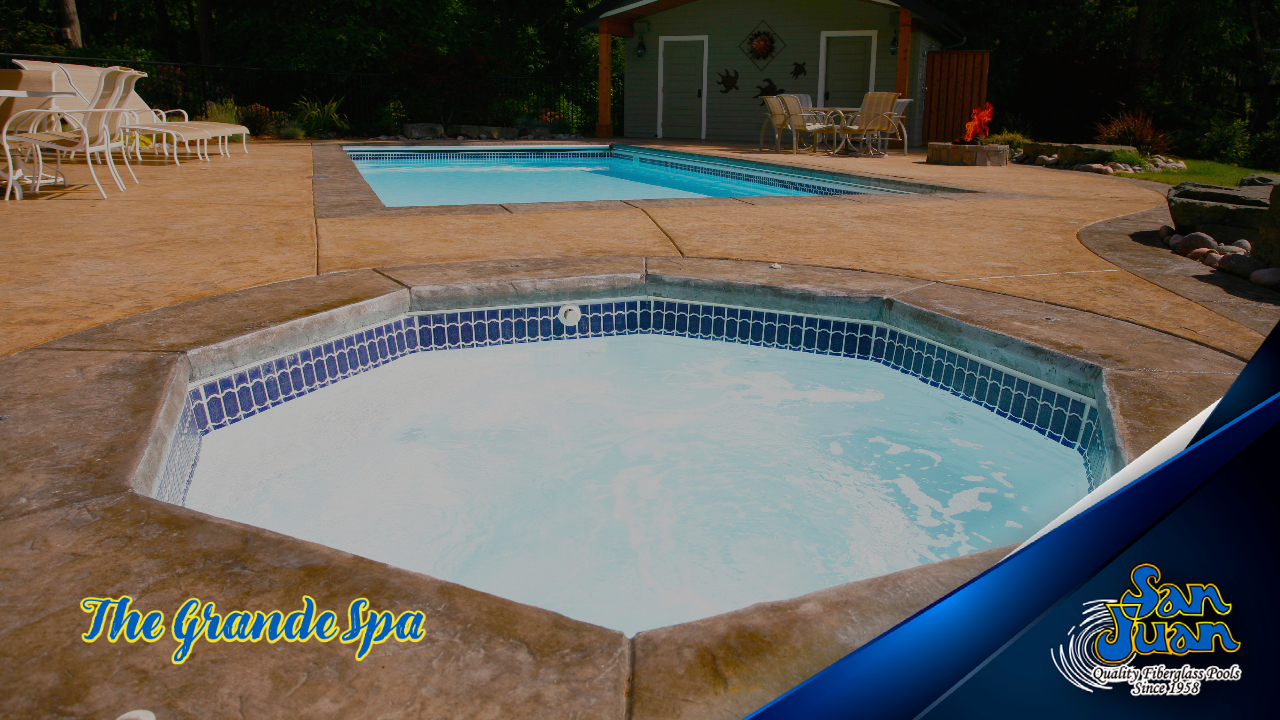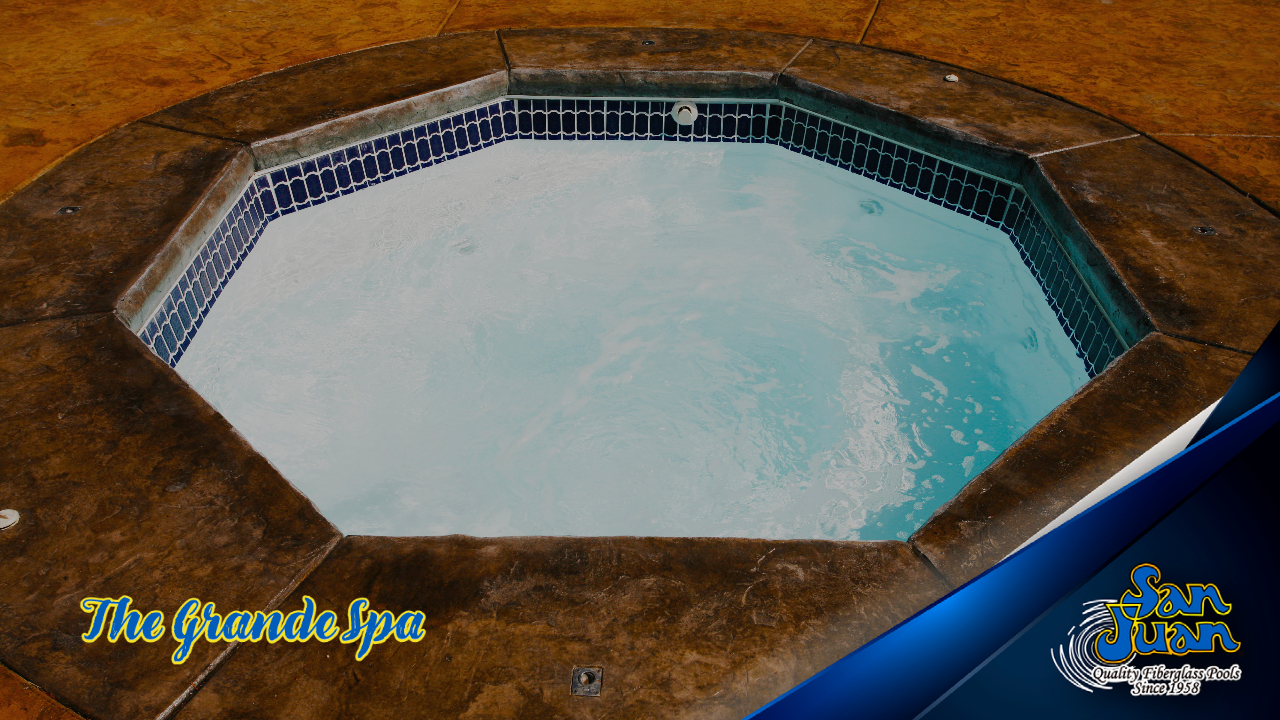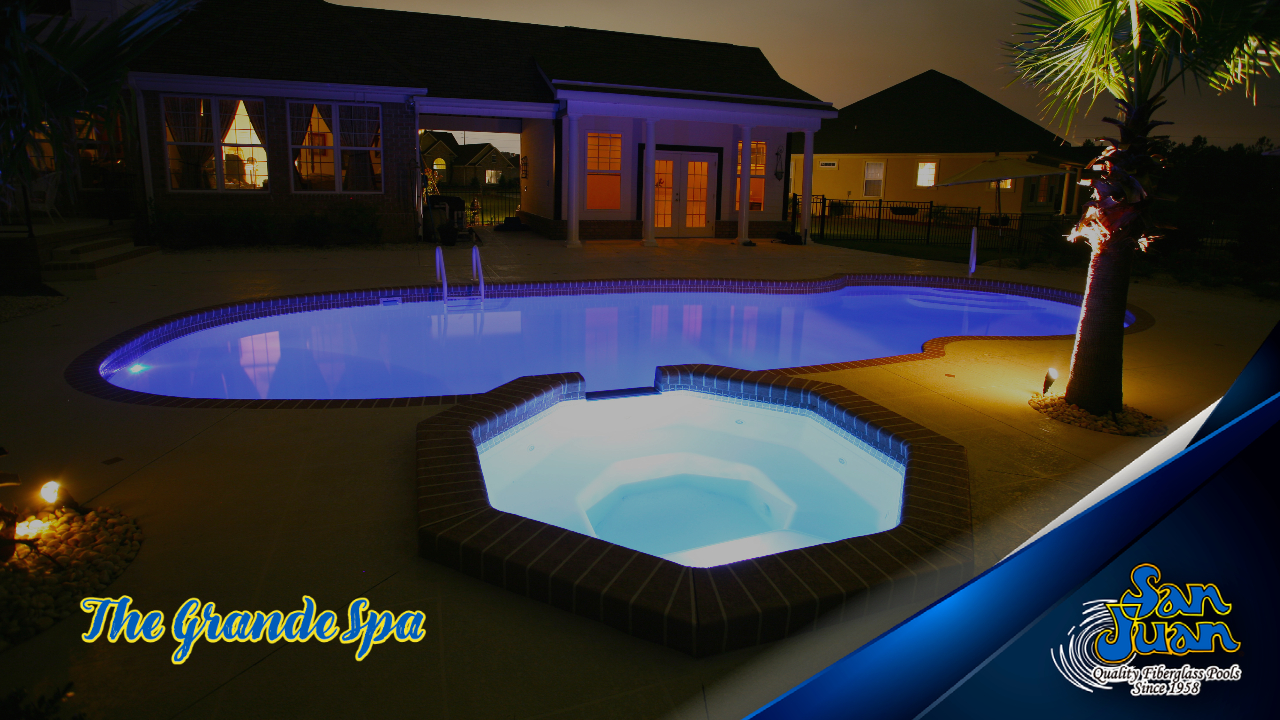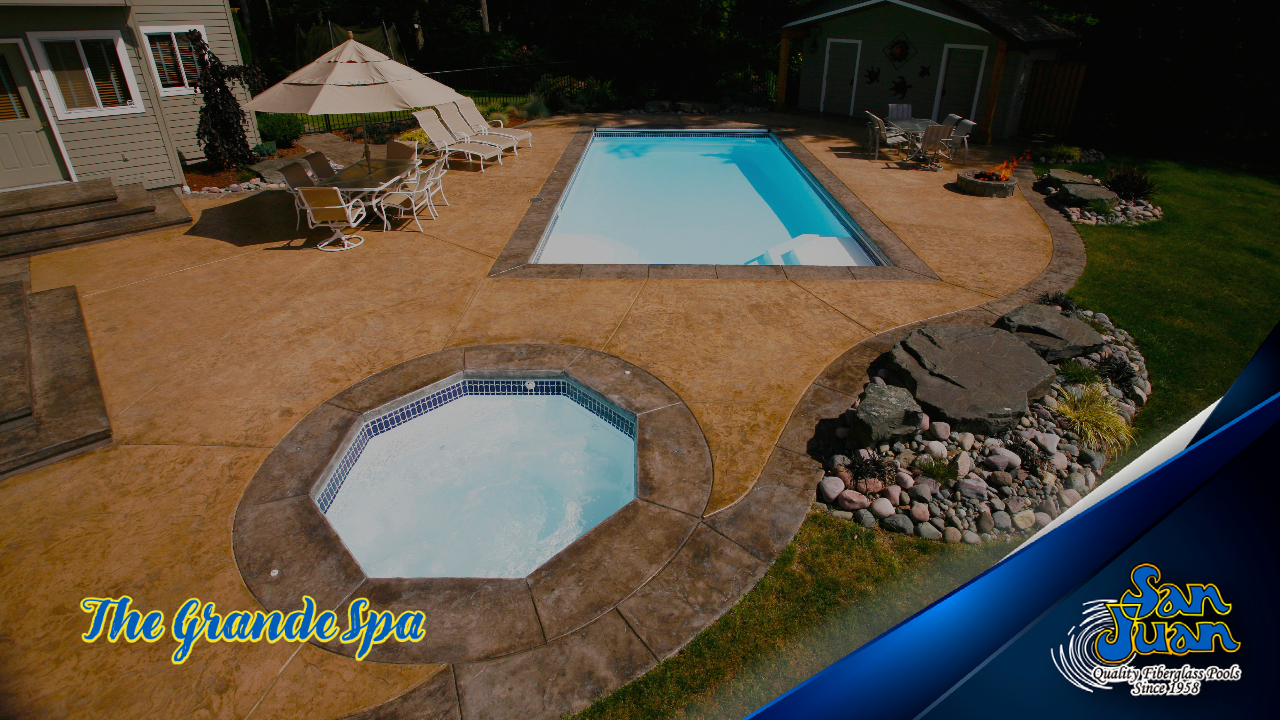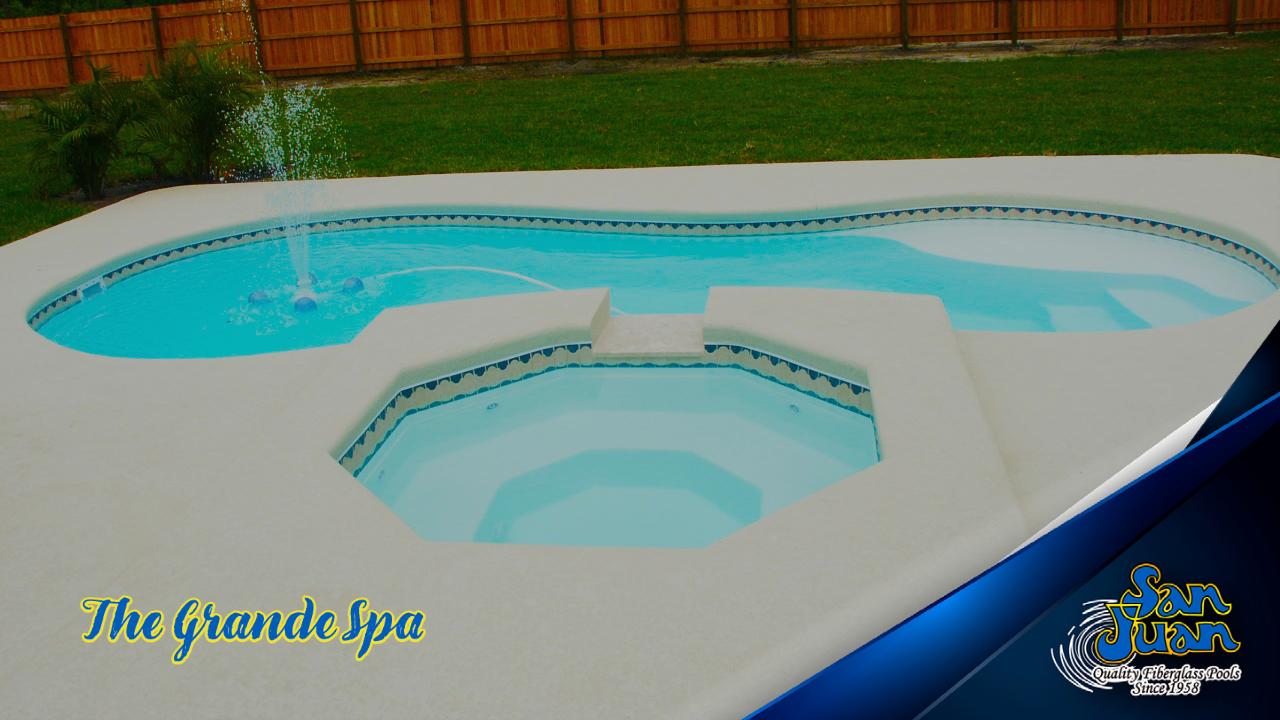 The Spa Specs
Width: 8′ O.D.

(7′ 3″ I.D.)

Length: 8′ O.D.

(7′ 3″ I.D.)

Depth: 3′ 2″
Surface Area: 44 SQFT
Volume: 550 Gallons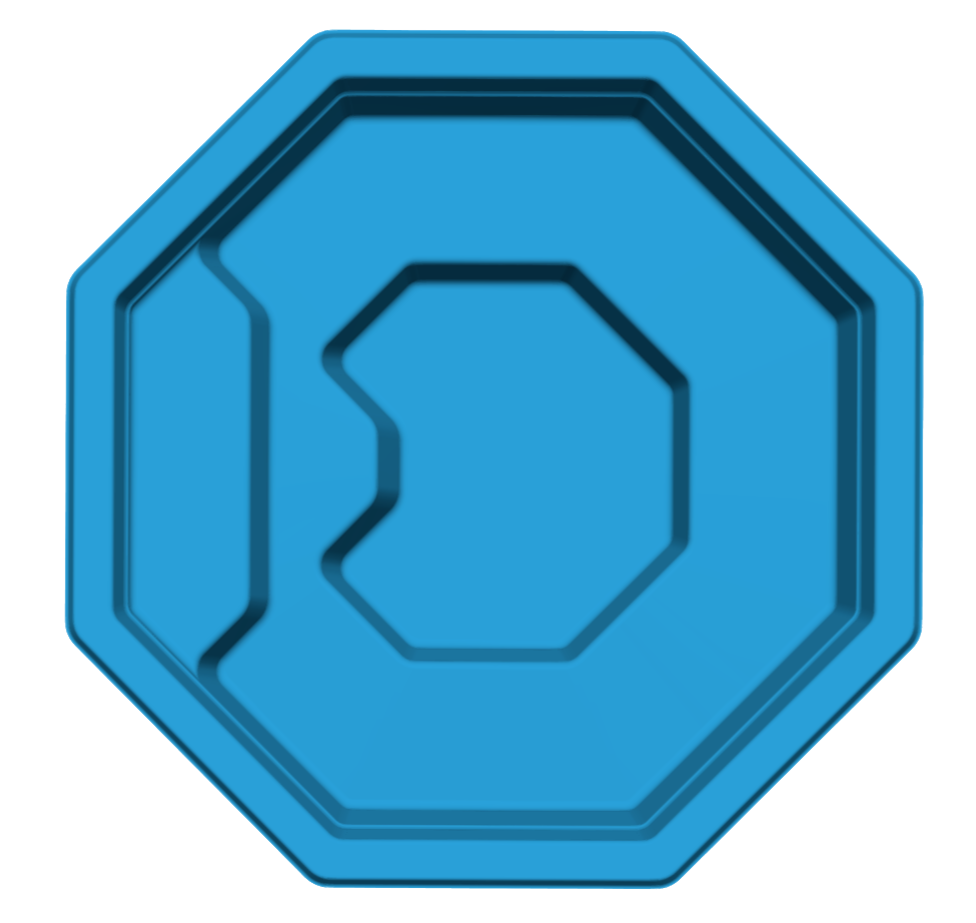 The Grande Spa – A Unique Octagon Layout
Let's turn our attention to one of our most popular fiberglass spa designs we've ever created – the Grande Spa! This gorgeous fiberglass spa is both captivating and comfortable. Designed with an Octagon shape, it cleverly sits adjacent to any of our fiberglass pool models.
Both handsome and interesting, this spa rightly earns its name from its "grande" design. Formulated by our engineers to be spa that is spacious for its guest, we've designed it with a flat bottom and plenty of bench seating. You are free to customize this spa whichever way you'd like. (Above) we can see the Grande Spa accompanied by some illuminating LED lighting for a stunning nighttime effect.
Able to Hold 4-6 Bathers
Not only the Grande Spa beautiful to look at, it is also roomy and spacious! Designed with an octagon layout, it holds up to 4-6 guest at a time. This gives you plenty of design options! We suggesting pairing this spa with a set of spa jets at each seat for the comfort of your guests.
And if you're curious about why type of jets you can pair with this model – look no further. You can browse many manufacturers such as Custom Molded Products – who makes jets specifically designed for fiberglass spas. They have a huge assortment of custom jets that are just as beautiful as the Grande Spa. Just make sure that you're approved San Juan Dealer purchases some fiberglass jet bodies to house these beautiful jets.
Plenty of Space for Various Spa Jets
As we just mentioned, the Grande Spa has a huge amount of space for various spa jets. Rotating, direct or multi-spoke – there are a ton of options to choose from and they make using the Grande Spa even more enjoyable!
We also suggest getting a little creative with the layout of your jets in the spa. Perhaps you could create custom jet placements for each seat – each seat could be a different massage zone than the last. Just some food for creative thought…
The Grande Spa: The Perfect Add-On To Any Fiberglass Pool
Lastly, the Grande Spa is the perfect addition to any of our fiberglass swimming pools! Simply place your order for this spa along with any of our fiberglass pool designs and you will receive your shipment at the same time!
If this is your first pool purchase, take it from the experts – it's easiest to purchase both and install both at the same time. That allows the approved San Juan Dealer to complete your deck and plumbing so that both bodies are water are plumbed correctly. If you have any questions about ordering the Grande Spa or any of our other fiberglass spas – just give us a call!
The Features
In conclusion, the Grande Spa is a beautiful fiberglass spa with an interesting Octagon layout. It holds up to 4-6 bathers at a time and is the perfect add-on to any of our other fiberglass swimming pools.
It provides ample bench seating and a flat bottom layout for user comfort. It's also the perfect nighttime escape and pairs handsomely with some illuminating LED lighting. This is the perfect outdoor escape during those cold winter evenings and is the place that you'll find some deep relaxation during that busy week or stay-cation!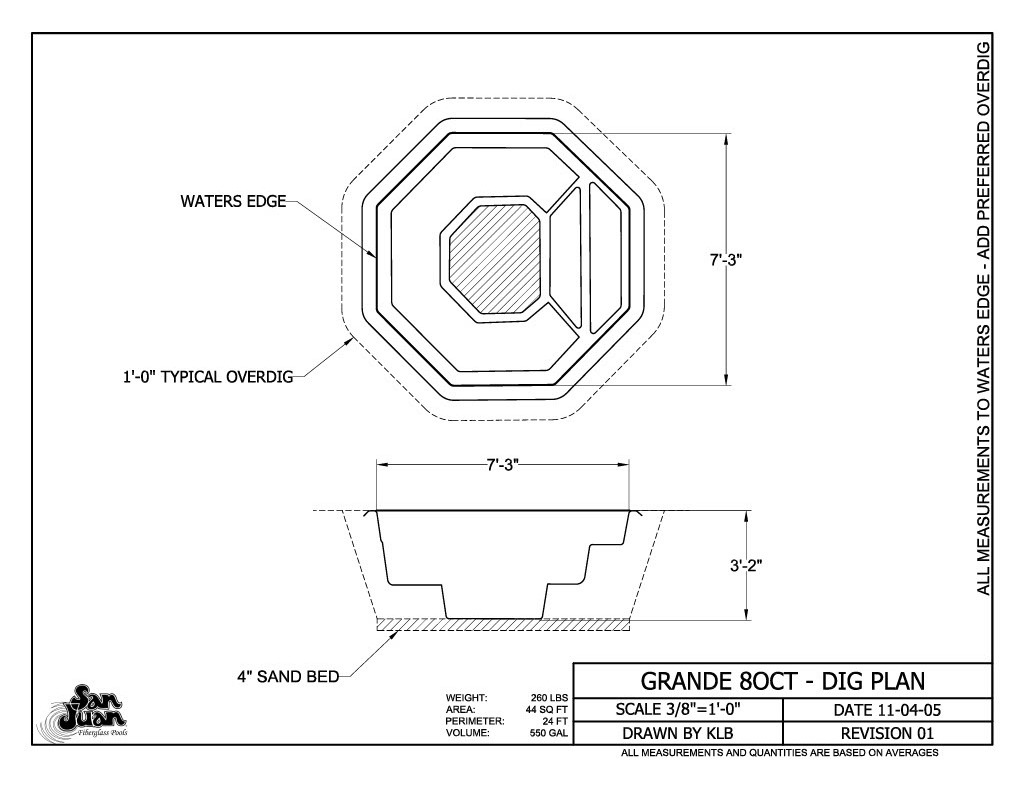 Connect with San Juan Fiberglass Pools online:
Visit the San Juan Fiberglass Pools WEBSITE: https://bit.ly/SJPWebSite
Visit the San Juan Fiberglass Pools GMB: https://bit.ly/SJPGoogleMyBusiness
Like San Juan Fiberglass Pools on FACEBOOK: https://bit.ly/SJPFacebook
Follow San Juan Fiberglass Pools on TWITTER: https://bit.ly/SJPTwitter
Review Us On Google: https://bit.ly/SJPGoogleReviews
Google Maps: https://bit.ly/SJPMaps
Google Search: https://bit.ly/SJPGoogleSearch