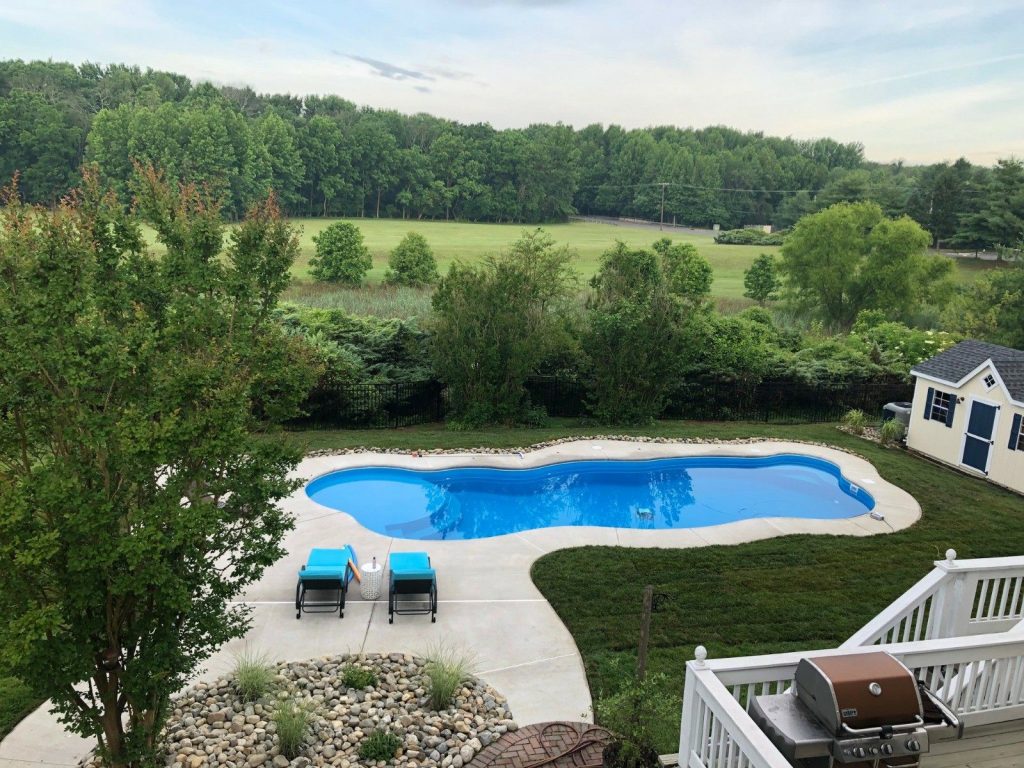 Let us Help You Create Your Dream Outdoor Living Space
At San Juan Pools, we have the ability to create a wide array of fiberglass pools & spas. From long 45' long fiberglass pools down to 5'-10' petite spas, we've got the largest selection of fiberglass inventory in the world! Ranging from rectangle shape, free form, oval, deep end, flat bottom and a whole array of options - it's all here! We make it easy to one-stop-shop for your next swimming pool.
In addition, we never compromise on quality. All San Juan fiberglass pools are manufactured in a controlled factory environment under strict supervision, resulting in a predictable high-quality product.
We are the FIRST company to manufacture fiberglass pools in the United Stated
Manufactured in Florida, Indiana and Arizona
Cost are competitive to that of concrete and vinyl liner pools
We offer price lists for both D-I-Y (do it yourself) and installation - click our Dealer Locator for information on your closest San Juan Dealer
An unyielding commitment to quality has been San Juan's stock in trade ever since we produced our first fiberglass pool back in 1958; As a matter of fact, our first pool is still in use, looking as good today as the day it left the factory. It's a monument to the enduring quality of our product

- Kirk Sullivan
President of Lakeland, Florida-based San Juan Fiberglass Pools
Speak to a San Juan Dealer Today!
We care about every aspect of our product, so you can make your dream outdoor living space! Our product selection ranges from above ground to inground swimming pools, tanning ledges or even fiberglass spas. San Juan Pools is your source for build your perfect backyard pool environment! We are happy to provide quotes for new product installation! Simply visit our Dealer Locator to get in touch with one of our specialty San Juan Dealers today!
*Please note, all of our San Juan Dealers are independently owned & operated businesses that sell our products. We are not the primary installer, but rather the manufacturer of the fiberglass shell that is installed in your backyard. Please defer any questions about your product installation to you preferred San Juan Dealer and allow us to answer any questions regarding your fiberglass swimming pool & spa shell that you are purchasing!
Are you simply looking for product information and aren't ready to speak with a dealer yet? That's okay! We offer FREE in-home Backyard Design Sessions & Estimates! Just give us a call at 800-535-7946 to get started today!
We Were the First: America's Fiberglass Pool Brand
Since our inception in 1958, San Juan Pools has been the leader in fiberglass pool construction. We've constructed hundreds of thousands of fiberglass pool & spa shells for both residential and commercial applications. We also want to be the ones to create your next outdoor living environment for your home or business!
So what are you waiting on to get started? We invite you to take a look around and perform your due diligence! Purchasing a fiberglass swimming pool and spa is a big decision and should never be taken lightly. There are several manufacturers to choose from and we know that you have plenty of options.
Therefore, we invite you to reach out to us. Fill out our Contact Form so we can provide you any supplemental information you may need to get started on your search for a truly remarkable swimming pool experience!